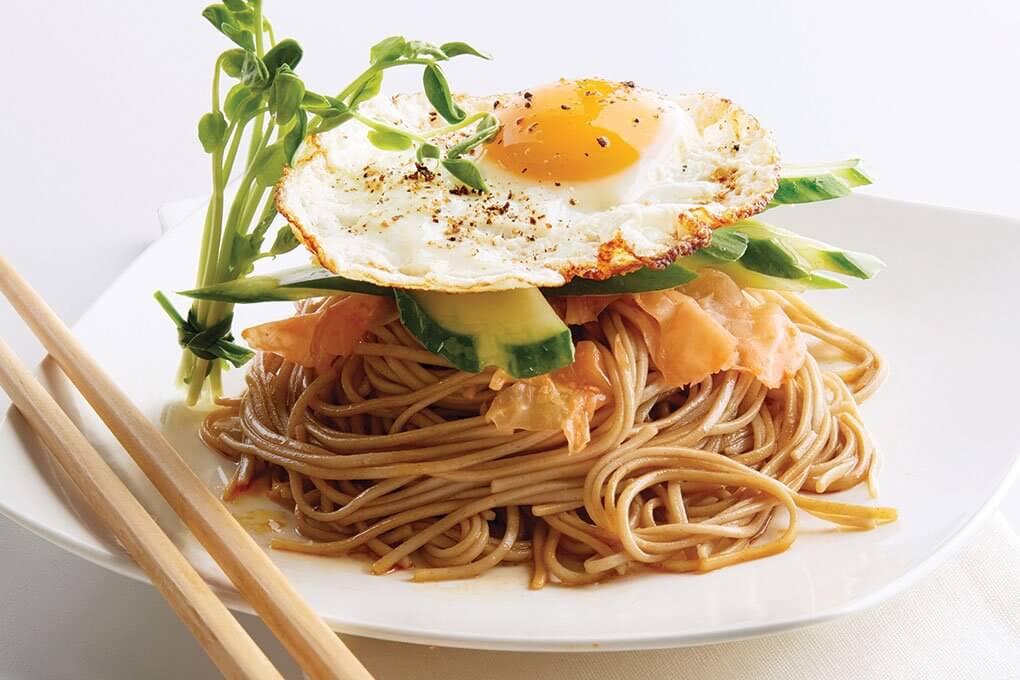 By Flavor & The Menu
May 19, 2019
SPONSORED CONTENT
Translating today's flavor trends for your specific operation is really about turning those trends into singular menu opportunities. Differentiation and intrigue—that's the name of the game in this competitive foodservice landscape. But of course, for on-trend ideas to really soar, they need to be grounded in comfort level and familiarity. With flavors and ingredients moving through the trend cycle faster than ever, and with diners expecting new, adventurous, unique flavor experiences at every turn, it becomes incredibly challenging to keep culinary innovation at pace with guest expectation.
A winning strategy here is leaning on foodservice manufacturers that are dedicated to your success as a chef. Minor's® understands that flavor means business, and backs up its consistent, high-quality products with a culinary team charged with turning today's best trends into stellar menu opportunities. The Minor's chefs are in the trenches, partnering with restaurant brands to help them optimize the use of Minor's products in their kitchens, build their business and create memorable, profitable menus that are easy to execute, consistent and, above all, keep flavor in deep focus.
What follows is 10 dynamic, menu-ready builds and how to leverage them. We tapped Chef Douglas McGohan, Culinary Services Manager and Minor's Corporate Chef, to share easy pathways into these 10 trending categories—from bowl builds to global sandwiches. The recipe ideas described are bold, creative and hold broad appeal—a winning combination today. And they each rely on the extensive portfolio of Minor's products—from bases to sauces—starring top-quality ingredients that are selected, sourced and handled with extreme care to the highest standards in quality and food safety.
"One of the most important things we focus on at Minor's is ensuring that our products capture authentic flavors, deepening the overall experience and delivering exactly what you need to make your recipe development stand out," says McGohan. Read on for 10 best flavor builds designed to give you an operational advantage.
To build your best menu, here are 10 on-trend categories to consider. Douglas McGohan, Culinary Services Manager and Minor's Corporate Chef, shares easy pathways into these trending profiles. For these recipes and more, visit flavormeansbusiness.com
1

Modern Bowls

The bowls trend is here to stay, with diners loving the easy-to-eat format with layers of wholesome, hearty ingredients and complex flavor play. "This Root Vegetable & Spelt Bowl combines nutrient-rich spelt with the earthy flavors of deep roasted root vegetables." To boost the flavor of the spelt, it's cooked in Minor's Sautéed Vegetable Mirepoix Base and water. Other grains could sub in nicely for the spelt, such as farro, quinoa or brown rice. "The key is dialing up the flavor with the Mirepoix Base to ensure that refined, memorable experience that your guests are looking for today."
2

Global Flatbreads

We're tracking an interesting resurgence in flatbreads, where the flavor combinations are becoming more eclectic, pulling from different global pantries for inspiration. This Rustic Flatbread leads with big flavor and color, and delivers on the promise of a great shareable. "You get a mix of smoke and heat from the spread of this Mediterranean-inspired flatbread." Minor's Fire Roasted Poblano Flavor Concentrate is spread over the dough, then topped with shallots, artichoke, bell pepper and olives.
3

Fermented Flavors

Fermented ingredients like kimchi, kombucha and gochujang are shining bright now, thanks to their savory, complex flavor and their wellness narrative around gut health.
Kimchi is also a great ingredient to play with as it introduces a global touch while adding savory, acidic flavor. "This Spicy Cold Kimchi Noodle dish packs a lot of umami, thanks to a sauce made with Minor's Shrimp Base, soy sauce, Minor's Roasted Garlic Flavor Concentrate, sugar, sesame oil, red wine vinegar, honey and ginger."
4

Plant-based Heroes

One of the biggest trends in foodservice right now is veg-centricity, where produce takes center stage, boasting big, beautiful flavors. Perfect as a bar bite, appetizer or vegetarian entrée, this Grilled Cilantro Cauliflower Steak stars bright, zingy flavor. Glazed with GreenLeafTM Cilantro Pesto, then charred on the grill, the cauliflower is served over crème fraîche spiked with Minor's Chipotle Flavor Concentrate. A colorful array of sautéed Brussels sprouts and pomegranate seeds finishes the dish. "The meatiness of the grilled cauliflower works really well with the bold flavors of the pesto—this plant-based dish stands out with craveable flavors."
5

Global Sandwiches

One thing that the success of the Vietnamese banh mi has proven: American consumers love well-crafted handhelds with intriguing, craveable flavors. "This South American inspired arepa delivers rich, complex flavor in the tender, ancho-flavored shredded beef." To achieve the perfect consistency and flavor, chuck roast is seared, then braised in beef stock, vegetable broth prepared with Minor's Gluten Free Vegetable Base made with Natural Ingredients and Minor's Ancho Flavor Concentrate. "It's savory, with a bit of heat and complexity that works really well in this recipe. This braise would also translate nicely in a taco or burrito format, or over a Latin-style breakfast hash."
6

Next-level Hummus

The hummus trend is still going strong, with diners embracing this plant-powered shareable, and chefs exploring the wonderful possibilities of adding different flavors to the chickpea base. In this Jalapeño Hummus, the simple addition of Minor's Fire Roasted Jalapeño Flavor Concentrate adds a kick of bright heat. "You could easily take your hummus appetizer a different way, adding a smoky heat with Minor's Chipotle Flavor Concentrate. The possibilities for flavor add-ins are endless."
7

Modern Comfort

Mac and cheese is a go-to comfort food. Updating it with bold hits of flavor is a smart way to distinguish yours. "In this Tuscan Shrimp Mac and Cheese, the fresh flavors and ingredients of Tuscany give traditional mac and cheese a unique twist." Mac and cheese is topped with flavor-packed shrimp sautéed in olive oil, then tossed in Minor's Roasted Garlic Flavor Concentrate and Minor's Sun Dried Tomato Pesto Flavor Concentrate. Artichoke hearts, peas, cherry tomatoes, white wine and parsley finish the dish.
8

Global Heat

America continues its love affair with heat. Today's trend sees an embrace of nuanced, complex heat—from the funky, salty bite of Sriracha to the smoky warmth of guajillo. "This Pork Pozole delivers an authentic Mexican experience, deriving much of its flavor from Minor's Red Chile Adobo Flavor Concentrate." Deep, comforting and a little adventurous, pozole is poised to make big moves on menus today.
9

Bold Benedicts

Eggs Benedict are a fan favorite in the red-hot brunch space. "This recipe delivers an upscale, Mediterranean variation on the classic eggs Benedict by adding smoked salmon and wilted spinach. Minor's Hollandaise Sauce anchors it in the familiar." This breakfast classic's versatility makes it a runaway hit—switch out the salmon for smoked trout, or add on-trend ingredients, like Calabrian pepper paste or pesto, to the hollandaise for a signature take that keeps it in the Mediterranean.
10

Functional Sips

Personalized nutrition is an emerging trend that offers a lot of opportunity. One easy way in is through drinkable broths and soups that promise comforting, wholesome, healing ingredients. "This Robust Chicken Broth features Minor's Classical Reductions Reduced Chicken Stock and brings deep hearty flavors and health benefits of a long slow-simmered broth."

For these recipes and more, visit flavormeansbusiness.com