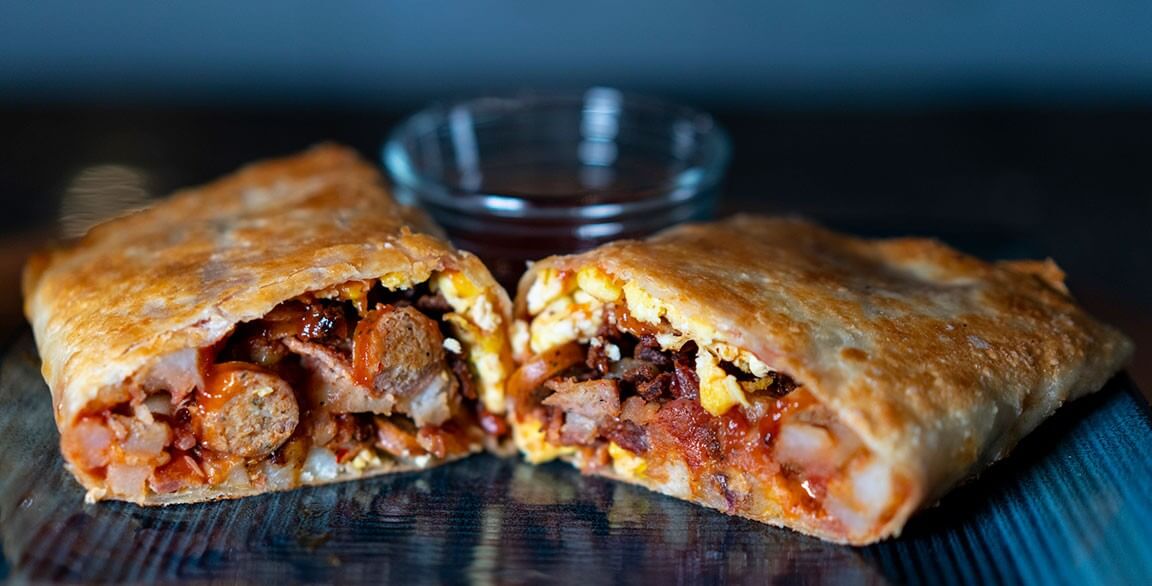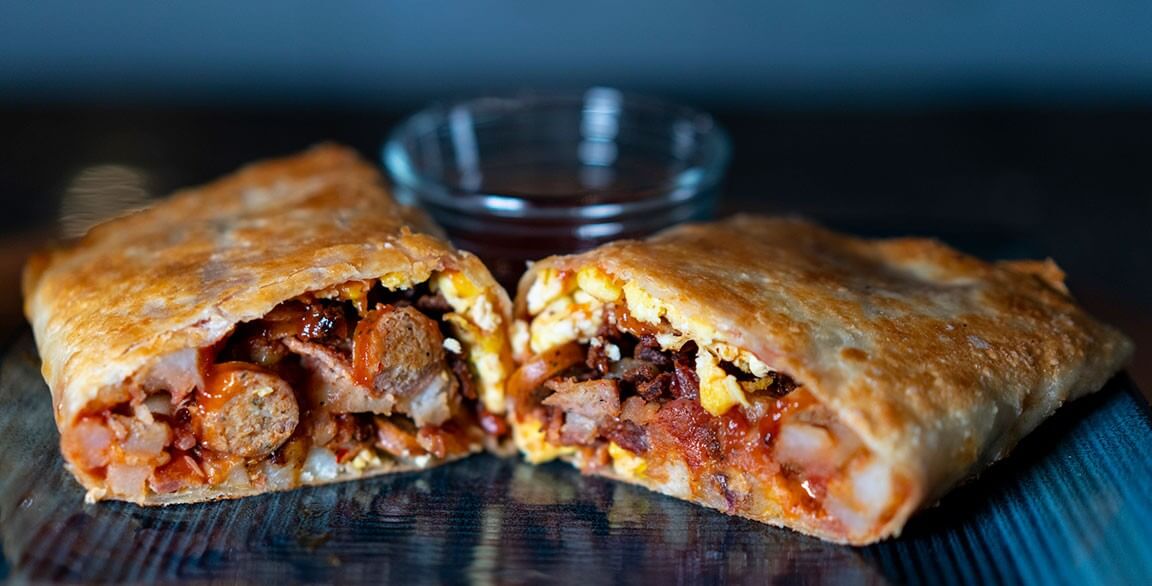 This jacked up breakfast burrito lifts a takeout staple to another level, filled with soft-scrambled egg, slices of honey-glazed sausage and laced with hot sauce.
By Rob Corliss
June 13, 2021
Flavors on the Road
Going the distance with takeout and delivery
Operators are adapting to a post-pandemic restaurant industry. A major focus has been addressing takeout strategies to align with shifting consumer habits and preferences. As off-premise dining grows, breakfast has presented itself as a viable vehicle for capturing new revenue streams. Implementing updated or revamped menus will become a crucial element of a restaurant's strategy to entice consumers to shift their at-home breakfast habits to restaurant takeout.
The latitude with which consumers define breakfast affords every operation the flexibility to blend tradition with uniqueness. Strategies include offering a limited "Breakfast for Dinner" takeout as a means to simultaneously introduce guests to both core menu and new breakfast items (outside of morning hours). Making knife-and-fork breakfast favorites more portable and takeout friendly is another strategy. And don't lose sight of opportunities for delivering specialized at-home or office breakfast meal deals.
Here are five trend-forward and takeout friendly menu areas, capitalizing on the above-mentioned breakfast strategies.
1

Elevated Breakfast Sandwiches

Introducing spice or heat into breakfast handhelds is a smart way to entice today's consumers looking for something new with their food experiences. This opens avenues of exploration for a lineup of morning or all-day breakfast-inspired sandwiches.

Hot Pork Benedict Stack: Smoked pulled pork (coated with powdered hot sauce), fried egg, Gruyère cheese sauce on a toasted sourdough English muffin
2

Bolder Breakfast Burritos

Burritos are a proven takeout staple and consumer favorite. Differentiate your menu by pulling in current food trends to punch it up with bolder flavors and reignite the appeal of this classic.

Birria Omelette Burrito: Fajita peppers/onions and cheddar cheese omelette topped with shredded beef birria, wrapped in a soft flour tortilla, dipped in ancho chile-beef broth, griddled
3

Big Minis

Breakfast is a prime platform for highlighting snacking trends. Operators can present big flavors in a small format, converting familiar breakfast favorites into distinctive miniatures. Play up snackable portability to emphasize consumer convenience.

Blueberry Pancake Tall Stacks: Bite-sized miniature blueberry pancakes stacked tall (served in a sleeve), spiced lemon cream cheese dipper
4

"Thick and Creamy" Savory Porridge

Oatmeal has been a morning mainstay, but it practically begs for a modern culinary touch. Take the premise of why thick, creamy satiating indulgence resonates so strongly and then craft a signature comfort menu item. Translate this to all forms and preparations of grains.

Hot Maple-Bacon Oats: Maple-flavored slow-cooked Scottish oats, hot paprika seared pork belly bits, sliced scallions
5

Parfait-esque

Differentiating layers of flavor and texture not only creates an engaging visual, it offers up prime ways to deliver flavor creativity. Pull the fun and innovation associated with brunch into portable (in a cup) breakfast takeout.

French Toast Parfait: Layers of griddled brioche French toast chunks, cinnamon swirled whipped mascarpone, walnut praline crumble