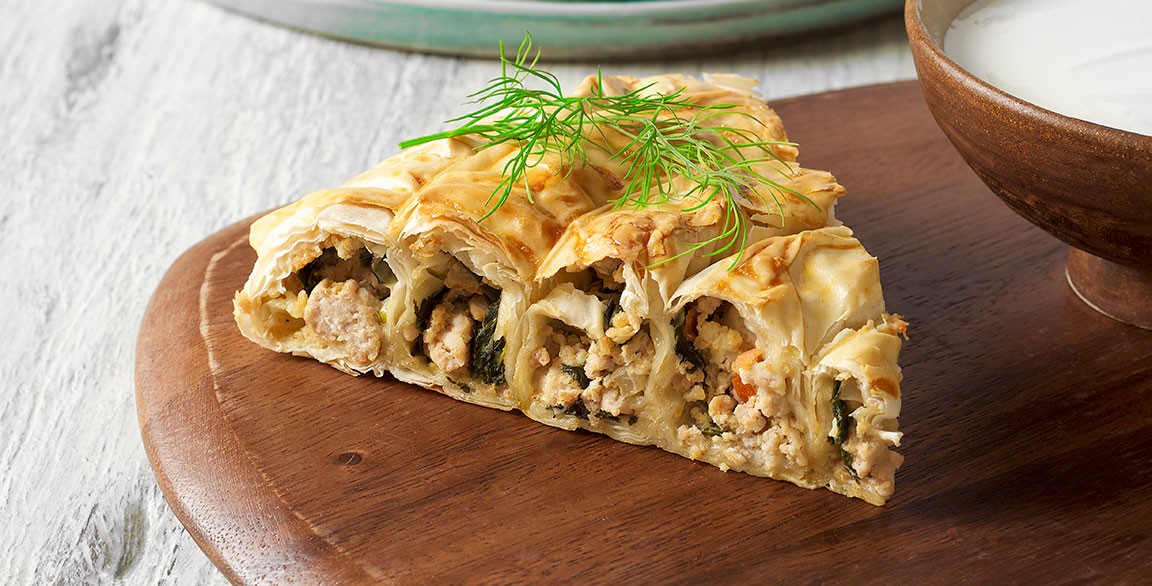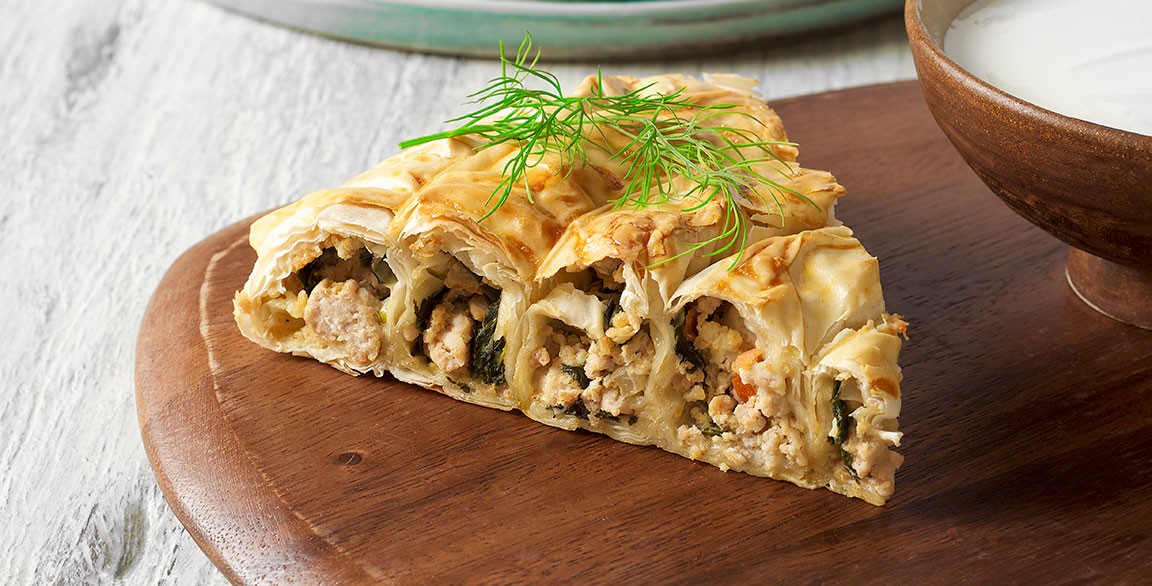 By Rob Corliss
September 21, 2020
Borek is a Balkan savory pie, stuffed and rolled into various shapes and sizes, made with flaky phyllo and gratifying fillings (meat, potatoes, cheese, vegetables). Customizable and comforting—what's not to love?
Borek shares similarities with Australian savory meat pies, which also offer menu opportunity for American menus. Combine the appealing qualities of borek and savory pies in general with the rise in the specialty breakfast segment, and you have a recipe for menu success. This all provides operators with another stepping off point, introducing guests to new breakfast/brunch experiences, which help break through the competition.
Here, we take a look at contemporary breakfast menu variations inspired by the Balkan borek, keeping phyllo dough (or puff pastry) as the alluring base, but changing out the ingredients for modern flavor preferences. Note the opportunity to diversify via a range of sizes in the context of family meal-sized whole pies, wedge entrée portions, smaller appetizer and snack forms and on-the-go handhelds for takeout.
"TRY THIS"
BOREK BREAKFAST PIE
Positioned as a whole large pie for takeout, whole personalized size pie or sliced into wedges as a main course offering; these baked pies will make you rethink breakfast.
Farmers' Breakfast Pie: Phyllo dough + hard scrambled eggs + shredded crispy hash browns + blistered bell peppers/onions + colby-Jack cheese + roasted salsa
Corned Beef Omelette Pie: Puff pastry + chopped corned beef and potato hash + eggs + scallions + shredded cheddar cheese
BOREK ROLLERS
Positioned as a breakfast appetizer or snack, the dough is filled then rolled into a spiral, baked and then served as a savory pastry or cut into decadent slices.
Cheesy Garden Roller: Phyllo dough + ricotta/feta cheese blend + fresh baby spinach + roasted red peppers
French Toast Sausage Roller: Puff pastry + cooked ground chicken sausage crumbles + diced caramelized apples + shredded cheddar cheese + powdered sugar dusting + maple syrup dip
BOREK HAND PIE
Positioned as a portable to-go offering, these savory baked breakfast pies deliver food guests can easily eat and enjoy on the run.
Creamy Maple Bacon Hand Pie: Phyllo dough + cream cheese/grated pepper jack cheese + chunks of maple bacon (rolled into a cigar shape)
Baja Hand Pie: Puff pastry + braised achiote short rib + hard scrambled eggs + avocado-salsa verde + Mexican 4-cheese blend (formed into a rectangle shape)
FEATURED RECIPE