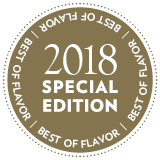 Our special Best of Flavor research reveals a broad range of trends. Those that come to the surface on the sweet side of the menu reflect trends we're seeing in overall menu development. Here, we profile four desserts: two that represent the cutting-edge innovation seen in other menu areas, and two of the most beloved classics, all four of which convey the constant tinkering with desserts that results in a "best" flavor build.
Menus are seeing creative innovations with plant-based and vegan products, and the dessert menu is no exception, proving that even vegan diners want sweet indulgences, too. Such dessert innovations can help extend a concept's brand statement, as evidenced by Planta's Young Thai Coconut dessert, demonstrating the newly opened concept's plant-based mission menu-wide. And at Brennan's, the "Butter" Cake is a vegan build in the comforting format of a cast-iron classic.
Conversely, nostalgia is always a proven winner on any dessert menu. Here we see how two of the most beloved classics—s'mores and banana cream pie—are reinvented to become a brand fit, conveying a modern approach that remains rooted in familiarity.
Wanting S'more
Necessity is the mother of invention, and that's the case with this dessert from New American restaurant Coastal Kitchen. "We wanted all the delicious tastes and the nostalgia of s'mores, but not the messy, sticky fingers," says Chef/Owner Mike Grant. The solution? An elegant S'mores Pie.
"Eating this pie with a fork brings all the satisfaction of a s'more," says Grant. "It's the perfect marriage of a classic dessert presented in a sophisticated way."
Indeed, the dessert takes the familiar flavors of s'mores and makes it memorable with craftsmanship and next-level ingredients. A housemade graham-cracker crust serves as the base of the pie. Then comes a chocolate ganache filling that's both sweet and salty. A billowing marshmallow meringue sits atop the pie, whipped and torched right before service, offering an eye-turning presentation.
By playing with the format of a familiar dish, Coastal Kitchen serves something new and fun while also engaging diners' memories of that campfire treat. It's a sophisticated dessert based on a kid-friendly staple.
"Customers love it—it's our signature dessert," says Grant.
---
Like Butter
Brennan's, a Southern California pub, offers eclectic takes on casual fare, from a Spicy Chicken Melt sporting harissa aïoli and red-wax Gouda to a Radish Panzanella with breakfast radishes, croutons, pickled red onions, a soft egg and sauce verte. But one of its most compelling offerings lives on the sweet side of the menu.
The Butter Cake with seasonal fruit and vegan honeycomb ice cream is both delicious and completely plant-based—a bold move considering that the very name implies dairy-laced decadence.
"After the first bite, the response is often a mix of sweet bliss quickly followed by disbelief that it's actually 100 percent plant-based," says Chef Kyle Brown. "Upon cracking into its caramelized sugar crust reminiscent of crème brûlée, you reach the center of the butter cake's warm, rich, cheesecake-like core."
Achieving the consistency and promise of butter cake on a vegan scale required meticulous research. "I spent two months of trial and error, tweaking measurements, testing vegan substitutions—like flax versus chia versus tofu 'eggs,' as well as soy-based or coconut-based vegan cream cheeses—to create the perfect butter cake recipe," he says.
The winning combination remains proprietary, but the result has been a huge success.
---
Tropical Treat
Planta just opened in March, boasting a 100 percent plant-based menu. David Lee, Executive Chef, serves up creative dishes like Carrot Nigiri with wasabi and nori, and Watermelon Poke with avocado smash, citrus soya, cilantro and jicama.
Its dessert menu is equally creative, putting vegan ingredients into the spotlight. The Young Thai Coconut stars a basil/chia-seed pudding, fresh coconut and passionfruit sorbet.
"The dessert is built in an actual coconut, then it's filled with the pudding that has this silky-smooth texture," says David Grutman, Owner. "We mix that creamy base with fresh pieces of coconut to give a nice crunch. Then we add a scoop of passionfruit sorbet and sprinkle coconut chips on top. It's almost too pretty to eat."
In addition to highlighting the craveability of plant-based foods, Planta's goal is to showcase how beautiful they are. "We designed our dishes to not only be next-level delicious, but also Instagram-worthy," he says. "If a dish isn't photogenic, what's the point?"
---
A Sweet Throwback
While it's a homespun, nostalgic favorite, banana cream pie isn't often seen on dessert menus anymore. But at Benny's Chop House, it's a housemade staple.
"It is a classic, and done well, there is no better dessert," says Mitchell Schmieding, Director of Operations. Benny's Banana Cream Pie starts with a housemade graham-cracker pie crust. The custard filling comes next, featuring a mixture of natural banana compound, pastry cream and perfectly ripe banana slices.
The banana compound gives the pie an extra dose of banana flavor, while the pastry cream lends a smooth, velvety texture and gives the custard weight, allowing the slices to hold their shape. Once the filling has been spread over the cooled pie crust, a generous, fluffy layer of whipped-cream topping provides a creamy flourish.
Schmieding describes the flavor layers: "crisp, sweet crust with a crunch, yet not too chewy; a delicious, velvety pastry cream with a delicately sweet banana flavor; and a light bite of fresh bananas, topped with a brilliant, mildly sweet whipped cream."
Caramel-glazed bananas on the plate provide a final dose of sticky sweetness. Thoughtfully prepared, this popular pie resonates with Benny's patrons, thanks to its craft touches and nostalgia factor.
"We have tried to change this dessert but cannot," says Schmieding. "It is now part of the Benny's brand."