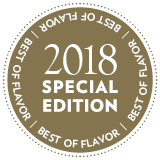 In a very grown-up edition of the classic peanut-and-chocolate pairing, this dessert takes the palate full-circle. Created at a National Peanut Board event by James Beard award-winning cookbook author and Georgia native Virginia Willis, the rich and intense Bittersweet Chocolate Bread Pudding uses baguette as its bread component.
Savory and sweet, the bread pudding is served warm with a dollop of whipped cream. The accompanying chilled Peanut Butter Mousse, on the other hand, is sweet and tangy, thanks to the cream cheese and peanut butter base.
As a signature counterpoint, the Scotch Bonnet Peanut Brittle is an addictive combination of salty-sweet-spicy. "This rich, decadent dessert is three different textures and temperatures. In addition, it touches on all of the five basic tastes: sour, salty, bitter, sweet and umami," says Willis.