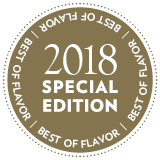 Narrative and sense of place have become important values today. The Heritage Pork at Temple Bar, an upscale pub, offers a compelling story that appeals to socially conscious diners.
The pork comes from the critically endangered Mulefoot breed. "In order to grow the breed, we need to use it," says Executive Chef Richmond Edes. Temple Bar specifically added the dish to the menu in order to support the Mulefoot breed. The animal is responsibly raised and cared for, and then Temple Bar uses as many cuts and techniques as possible in the dish.
"The trick with whole animals is to use the entire thing," says Edes. "There is always a roasted piece—either a loin or leg—as well as confit belly, a sausage, ribs and a Spam-style terrine."
This strong narrative is elevated with complex flavors that set the entrée apart. Black barbecue sauce made from reduced Worcestershire and brown sugar adds spice and dimension to the meat, while roasted sweet potatoes are puréed with unexpected miso, adding a salty twist to the sweet vegetable.
Lacinato kale contributes grounded, earthy notes for balance.Because the Heritage Pork has been such a hit, Temple Bar has expanded the use of Mulefoot pork to other dishes, like its Bolognese sauce—truly working to support the breed across the menu.