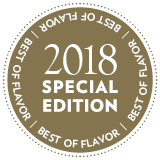 Burgers, seafood and traditional Cajun cuisine await diners at Walk-On's Bistreaux & Bar's many locations in Louisiana and Texas, but it's the mash-up of Cajun and Mexican that has diners cheering for the home team.
The Cajundillas—Cajun-inspired quesadillas—star chipotle tortillas filled with seasoned chicken, spicy boudin sausage, andouille sausage, chipotle ranch and Monterey Jack cheese.
"Our customers love them!" says Mike Turner, VP of Culinary and Purchasing. "The Cajundillas have consistently been a top-10 seller year after year." Cajun flavors bend the quesadilla toward Louisiana.
"A sweet hint from the onions balances the spice from the boudin, chicken and sausage," says Turner. A side of red beans and rice completes the signature dish.
"Customers are always intrigued by a unique dish, and this is definitely one of a kind."