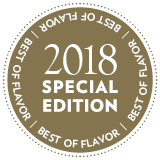 Modern diners are bringing adventurous palates and high expectations to the dinner table, and the same old thing just doesn't cut it anymore. This is especially true at five-star hotel restaurants like The Immigrant Restaurant, located inside The American Club.
Head Chef Douglas Stringer created a bar-menu dish of Duck Wings with celery leaves and blue-cheese potato chips, an upscale version of traditional chicken wings."We settled on duck wings because the size was just right, and the flavor was different enough to provide some intrigue," says Stringer.
For a dose of flavorful sweet heat, the wings are coated in sauce made from emulsified vinegar, butter, Sriracha, sesame oil, honey, orange and ginger. They're cooked confit at 275 degrees F for three hours and then deep fried.
For a twist on the typical celery sticks and blue-cheese dip, Stringer decided to play with texture. Instead of celery sticks, he opted for celery leaves lightly dressed in vinaigrette and sesame seeds. and for a fun spin on creamy blue cheese, Stringer developed crunchy blue-cheese potato chips.
The accoutrements deliver the flavors that diners expect when eating wings, but with added "Wow!" factor. The duck wings have been one of the restaurant's top sellers at the bar since rolling out last fall, paving the way for Stringer to develop even more playful interpretations of classic flavor systems.
"The possibilities are limited only by our imaginations," he says.