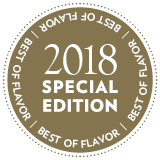 The veg-centric movement has fueled innovation in vegetable cookery, where chefs make dishes like carrots, kohlrabi and Brussels sprouts craveable through strategic use of savory ingredients like bagna càuda, 'nduja or bacon.
At K Restaurant, a New American eatery, the Fried Brussels Sprouts are now permanently on the "Small Stuff" menu.
"Our guests like it so much that it's actually been a fixture on our menu much longer than most dishes, especially since our menu changes so often," says Ryan McLaughlin, Chef de Cuisine. "I even attempted to take it off the menu, but after so many requests, it found its way back on."
This small plate locks up craveability with a clever combination of fried Brussels sprouts tossed in salt and pepper and hot-sauce honey, then garnished with bacon lardons and fresh chives. McLaughlin makes the hot honey with local peppers, usually either datil or Fresno.
"All together we have crispy, salty, sweet, spicy, fatty and chewy components, which play off each other well to create a simple appetizer," he says.
"I believe the simplicity of the dish is what makes it a success—and obviously the bacon."