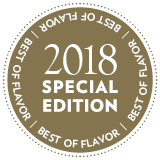 Green chili is not seen too often in the Midwest, but it's a hit at Ohio gastropub 101 Beer Kitchen, which serves elevated comfort food at its three locations in the Buckeye State. The dish's popularity stems from its attention to flavor detail.
Roasted pork, puréed tomatillo and roasted poblano peppers make up the base of the chili. The stew-like combination is served over yellow rice and topped with sour cream, queso fresco and cilantro. Charred lime and a flour tortilla finish the build.
"The heat is there, but just enough to be warming, and the sour cream and queso fresco cool and cream the broth just enough," says Co-founder Thad Kittrell. The chili rises in popularity as the temperature drops.
"The layers of flavors are warm and comforting, making it a craveable dish during the cold winter months in the Midwest," he says.
The popularity of the Green Chili has inspired 101 Beer Kitchen to feature it elsewhere on the menu, most recently, as a topping over its housemade tater tots.