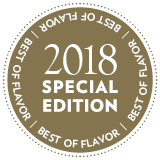 Cold-brew coffee is quite the VIP in the landscape of booming process-driven drinks. Now available at both specialty and chain coffee shops and in ready-to-drink packaging, flavor has emerged as an important selling point for cold brew.
Embracing regional flavors, PJ's Coffee of New Orleans menus The King Cake Protein Velvet Ice. At this chain, the vanilla and cinnamon flavors of king cake—the popular Mardi Gras dessert—give this drink a flavorful boost that fits its regional brand, while a dose of whey protein positions it in the health-beverage category.
"Our customers are looking for health-inspired products without sacrificing taste," says Reid Nolte, PJ's Director of Marketing and Brand Strategy. "With over 20 grams of protein and only 230 calories for a Medium, The King Cake Protein Velvet Ice is a great post-workout or meal-replacement option for those with an active lifestyle."
The build sees PJ's low-calorie Original Cold-Brew Concentrate, fat-free milk, whey-protein concentrate and king cake flavors. Velvety smooth, the drink "allows customers to enjoy the indulgent flavors of cinnamon and vanilla king cake without the guilt," says Nolte.
Originally introduced as a limited-time offering, demand was so high that PJ's added it to the menu as a permanent item.