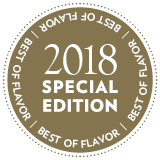 Pei Wei's Spicy General Tso's is hot, hot, hot, hot. Four layers of heat made this Pan-Asian fast casual's version of the classic rice bowl its most popular product launch in 15 years.
"I believe the reason this resonated with our guests so well is because we took a familiar and recognizable Asian comfort dish—the most commonly menued Chinese dish in America—and dialed up the heat," says Jason Sullivan, Director of Culinary Innovation.
To make it hotter, all-white-meat chicken is spiced with four forms of heat: Sriracha, whole chile pods, chile paste and red chile flakes. Carrots, red peppers and scallion add vegetal balance to the bowl.
Says Sullivan, "General Tso's is also traditionally a sweet dish, so we wanted to counteract that sweetness with rich umami notes from our soy-based sesame sauce and an insane amount of fresh chopped garlic." Packed with umami and the heat that consumers crave, Pei Wei's take on General Tso's chicken more than doubled the sales of any previous limited-time offering, securing a spot on the chain's permanent menu.
"It is still incredibly popular with our guests," says Sullivan.