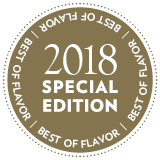 It's like traveling from New York to the South in a few bites. The Eggstreme Pastrami Melt at Jason's Deli takes a familiar deli sandwich and transforms it with a favorite Southern ingredient: pimento cheese.
The build includes housemade pimento cheese along with jalapeño Jack, cheddar and Muenster, roasted piquillo peppers, pastrami, stone-ground mustard—and a fresh-cracked fried egg for added oomph. These bold flavors on a telera roll translate to a high-impact sandwich.
"The sandwich itself may not contain any up-trending or new ethnic flavors,"' says Corporate Chef Brandon Hudson. "But we feel the unique mash-up of classic deli with the decadence of a Southern classic like pimento cheese is raised to a new level with the addition of a fresh egg."
He reports that fresh-cracked eggs are appearing on menus during all dayparts now—something they'll continue to explore at Jason's Deli."The Eggstreme Pastrami Melt performed very well in our test system, and we're excited to see how it does as an LTO," says Hudson.
Jason's Deli is also launching a BLT with avocado and a fresh-cracked egg.