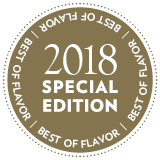 Necessity is the mother of invention, and that's the case with this dessert from New American restaurant Coastal Kitchen. "We wanted all the delicious tastes and the nostalgia of s'mores, but not the messy, sticky fingers," says Chef/Owner Mike Grant. The solution? An elegant S'mores Pie.
"Eating this pie with a fork brings all the satisfaction of a s'more," says Grant. "It's the perfect marriage of a classic dessert presented in a sophisticated way."
Indeed, the dessert takes the familiar flavors of s'mores and makes it memorable with craftsmanship and next-level ingredients. A housemade graham-cracker crust serves as the base of the pie. Then comes a chocolate ganache filling that's both sweet and salty. A billowing marshmallow meringue sits atop the pie, whipped and torched right before service, offering an eye-turning presentation.
By playing with the format of a familiar dish, Coastal Kitchen serves something new and fun while also engaging diners' memories of that campfire treat. It's a sophisticated dessert based on a kid-friendly staple.
"Customers love it—it's our signature dessert," says Grant.