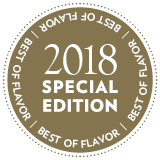 It's relatively simple to make a meat-topped pizza that customers love. A vegetarian pizza that packs the same punch? Harder, but doable. Take it from Executive Chef Brad Kent of fast-casual chain Blaze Pizza, who got creative with high-impact ingredients when developing the chain's Veg Out pizza.
"The 'Aha!' moment for this pizza was realizing that when constructing it, all I needed to do was to match the sensory experience—minus the chew—of eating a meat-topped pizza to make it sing," says Kent.
He starts with Blaze's classic 24-hour fermented dough. Whole-milk mozzarella and aged buttery Gorgonzola top the dough, followed by savory mushrooms and onions. A fire-roasted seasonal vegetable—such as broccoli—completes the trio, and then comes a generous dollop of piquant tomato sauce.
"The balance of flavors plays off each other to lend to total sensory meltdown in the mouth," says Kent. While the Veg Out is popular with those who order it, Kent says it's still "second fiddle" to meat-topped pizzas at Blaze. But as more consumers opt for wholesome, veg-centric options, the pie's thoughtful build and use of a fresh, seasonal vegetable is a smart way to meet a rising demand.