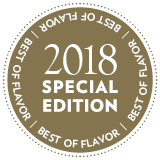 D'Angelo Grilled Sandwiches wanted to take advantage of the huge opportunity presented by modern bowl builds. This heritage brand, famous of course for its sandwiches, had already been offering bowl options for some time, under a category called "any sandwich as a bowl."
But Philip Smith, Director of Culinary & Product Development, decided to rework that strategy. "Some combinations of flavors lend themselves well to the idea of bowls. For example, grilled chicken teriyaki in a bowl," he says.
"So redeveloping bowls gave us an opportunity to represent our familiar core ingredients—in new, appealing presentations. Also, bowls, more than sandwiches, lend themselves to the idea of a plated entrée—repositioning bowls might be a means to extend our appeal into the evening daypart."
In refreshing the category, Smith developed five bowl presentations, and although all stand out with craveable flavor, the Southwestern Chicken, Rice & Grain Bowl exemplifies the success of adding a distinct bowls category.
Built on a wholesome blend of Colusari red rice, red jasmine rice, black quinoa, baby lentils and white rice, the build sees grilled chicken with a chipotle sauce, pickled jalapeño, onion and bell peppers, a charred corn-black bean-pepper salad, ranch dressing and fresh cilantro.
"It was clear the common-to-all-bowls rice component needed updating and would give us an opportunity to add healthy grain elements, build flavors, textures and visual appeal. Our guests love this. It was the right dish at the right time, with our signature grilled chicken presented in a familiar yet slightly different way—the Holy Grail for successful chain rollouts."