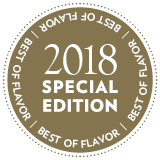 The Smoked & Grilled Heritage Pork Chop is a menu mainstay at Chef/Owner Matt Abdoo's restaurant Pig Bleecker. As one of the top-five selling entrées, customers have come to expect it and are never disappointed.
Abdoo developed the dish based on the classic pork chop and applesauce meal he grew up eating. "Everything's based on memories of my mom and grandma's cooking. My mom used to make shake-and-bake chops with applesauce. This is my take," he says.
For his version, Abdoo uses peaches for sweetness, incorporating them into a jam spiked with habanero. The jam lends that sweet-and-spicy pairing that's perfect with the smoked and rubbed pork. The blade chop is brined overnight in equilibrium brine before being seasoned with an all-purpose barbecue rub, then smoked over cherrywood.
For service, it's grilled and glazed with the peach-habanero jam and cooked to a perfect medium rare at 145 degrees F. Finally, it's topped with crispy firecracker onions (soaked in buttermilk and hot sauce, dredged and deep fried) and served with a side of greens, beans and pickled turnips.
"This dish blows people away. It's a showstopper—delicious and approachable," says Abdoo. "It's a menu must-have, so it's not changing anytime soon." He does, however, update the sides based on what's in season. He varies up the dish at his Brooklyn barbecue hotspot, Pig Beach. There, he features a Smoked Pork Tomahawk Chop— the large-format cut—to add a little more attitude to the dish.