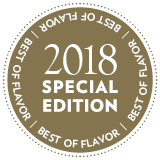 Although the grilled salmon at Burtons Grill, serving polished-casual American fare, was already a best seller, Corporate Chef Daniel Greenough wanted to tweak it further. "I wanted to come up with a dish that was craveable and memorable, with visual impact when delivered to the table," he says.
He turned to romesco sauce and a citrus-fennel slaw to create the Salmon Romesco, a menu signature since its debut four years ago."Romesco sauce has a unique ability to enhance fish," says Burton. "The mild acidity plays well off the fattiness of salmon in particular."
Its notes of roasted red pepper and toasted almonds add depth. At first, Greenough paired the salmon and romesco with grilled asparagus and fingerling potatoes, but he felt that the dish lost acidity and was too heavy. He added a citrus-fennel slaw (fennel, orange juice and zest, olive oil and dill).
"The fennel really brightened the dish back up, and the citrus from the orange brought the dish back into balance."