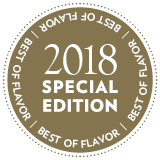 The Australian Lamb Chops at Maison 208, serving French-inspired New American cuisine, stand out with a flavor-forward crust and an eye-popping side of mashed Okinawa potatoes.
The lamb chops are trimmed, frenched, salted, seared, then slowly roasted and brushed with Dijon mustard and dusted with a mixture of coriander seeds, pink peppercorn, hazelnuts and white sesame seeds.
"Lastly, the lamb is baked for the final 10 minutes to get the spices toasted in the oven to give it the perfectly crunchy, hazelnut-spice crust, with a hint of spice from the mustard," says Chef/Owner Sylva Senat. "We also use a red-wine reduction. It really gives off a delicious aroma when it's baked."
The dish is served with mashed Okinawa purple potatoes, which are imported from Honolulu, but originated in Okinawa, Japan. "This is a sweet potato with a deep purple color that actually intensifies when cooked. It's very visually appealing," he says.
The popular dish has recently been revamped, served as a smaller portion on the appetizer menu, allowing guests to taste the dish at a lower price point. "With this new strategy, our analysis has also improved," Senat says.
Maison 208 is Philadelphia's first retractable-roof restaurant, focusing on dinner service on the first floor. The second floor, known as "The Social," features bar bites and craft cocktails. "I'm working on incorporating this dish into my café/light bites menu upstairs, too," he says.