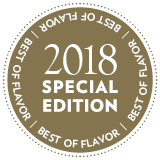 There's an element of drama when a dish is finished tableside, but it's ultimately about maximizing aroma and flavor. At Komodo, Southeast Asian cuisine is combined with a South Florida vibe to create favorites like the Arroz con Pato.
The restaurant's signature Peking duck is layered with rice, vegetables and a poached egg, then topped with shaved truffle.
"We have our servers mix the hot stone pot at the table," says General Manager Chris Cuomo. "The combo of aromas, taste and texture are insane."
For the dish, a super-hot granite bowl is lined with sesame oil, followed by saffron rice, Peking duck and duck stock. Truffle oil is added before the bowl is finished in the oven. Once it comes out, it's even hotter and the rice is fluffed—ready for layers of red bell peppers, scallion, enoki mushrooms and chives. A 63 degree Celsius egg is placed on top, followed by shaved fresh black truffle.
"The rice is super crispy on the outside, so when we mix it up tableside, we like to break up the rice first, then mix in the egg," says Cuomo. He says Komodo is known for its Peking duck. "We even have a 'duck room' where the duck is cooked, and a designated 'duck man' who makes the magic happen."
He says customers crave the Arroz con Pato, making it a best seller. "I couldn't imagine changing anything about it. It's too damn good."