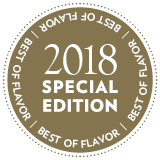 When it comes to Asian flavor profiles, there's a world of crossover that still has yet to be tapped. At Tánsuŏ, where Executive Chef Chris Cheung enjoys riffing on contemporary Chinese cuisine, the deep barbecue flavor of char siu invites exploration. One such riff, the Char Siu Black Cod, mixes tradition with innovation.
The cod is marinated with traditional Chinese char siu barbecue sauce, then broiled. It's topped with an XO sauce—a spicy Cantonese sauce made of dried scallops and shrimp cooked with chiles, onions and garlic—to enhance the savory notes in the dish.
"The fish is very fatty and rich and takes in the sweetness of the barbecue sauce," says Cheung. "Five-spice seasons the sauce. Once it's broiled, it sets and concentrates the flavor of the marinade, and the fish absorbs that flavor."
He says it's a "rare find" for a chef to hit upon a combination that works just right, and he marvels at the simplicity of how the marinade and the broiling technique accentuate the qualities of black cod.
In fact, he adds: "I've had ideas for expanding the dish to other fish, but it does seem that black cod is the perfect fit."