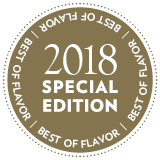 This modern twist on the classic Reuben sandwich brings the all-star avocado front and center while highlighting an under-used version of this super fruit: the firm avocado. Traditional sauerkraut is replaced by a zesty avocado sauerkraut. The less-ripe, firm avocado is grated and pickled in a brine of apple-cider vinegar, sugar, salt and caraway seeds.
When the slaw is added to the otherwise classic Reuben—with deli corned beef, Swiss cheese, Thousand Island dressing and toasted pumpernickel bread—the resulting Avo Reuben takes on a fresh look and appeal.
"Elevating traditional cabbage sauerkraut, this avocado version adds a crispy, fresh tang that perfectly balances the rich corned beef," says Mark Garcia, Director of Food Service Marketing for Avocados From Mexico. "And this is an upgrade patrons are willing to pay for. A 2016 Technomic consumer survey revealed that more than half of consumers want more avocado on their sandwiches and will pay up to two dollars more for it."
The avo kraut has life beyond the Reuben. "It also works beautifully on salad and as a modern bratwurst condiment," says Garcia.