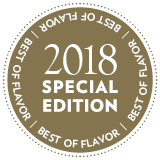 Steadfast is a modern American restaurant from The Fifty/50 Restaurant Group at The Kimpton Gray Hotel that menus creative, seasonal fare. Items include King Salmon with green goddess, fregula and fava beans, and Crispy Lamb Shank with harissa, yogurt and cucumber.
For Executive Chef Ender Oktayuren, two spring ingredients, though, steal the show: sunchokes and artichokes. "The artichoke's main harvest takes place in the spring when the largest thistles are available, and the sunchokes are super sweet after sitting in the frozen soil all winter long," he says.
"I like working the ingredients in different ways to showcase the unique and versatile ways you can use them."
In his halibut dish, served with brown-butter solids, shaved lemon, preserved lemon and cress, he showcases the sunchokes and artichokes in a few ways: an artichoke purée, artichoke chips, roasted sunchockes and pickled sunchokes.
"This is on our spring menu," says Oktayuren. "I chose this dish because spring artichokes and sunchokes are the best all season, and halibut is a great fish to pair with the chokes, brown-butter solids and the lemon components."