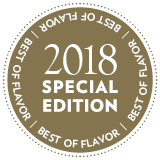 This Beet Tartare looks the part, but swaps the traditional raw beef for beets and a raw egg yolk for a yellow beet juice "yolk." This clever plant-based play on a steakhouse classic fits in beautifully at 701 Restaurant, which is known for its creative take on American cuisine. "It's been a hit, becoming a highlight of our menu," says Executive Chef Lincoln Fuge.
The red beets are roasted, diced and smoked, then tossed with a mustard vinaigrette that's emulsified with lecithin, giving the dish's sweet, earthy base a bright counterpoint.
Fuge then uses reverse spherification to create a yellow beet juice "yolk" to top the beets. The "yolk" breaks when pressed with a fork, creating the same visual and textural effects of the egg yolk in beef tartare. Dehydrated beet chips accompany the dish for a dose of salt and crunch.