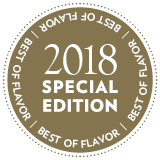 At Altabira City Tavern, Chef de Cuisine Greg Staerkel distinguishes classic tavern dishes with modern flavor touches. For his Ribeye, Staerkel pairs the premium steak with an unexpected potato-poblano pepper purée.
"The flavor in this purée has incredible balance, with just enough heat on the palate to be lively, but not too spicy," says Staerkel.
He roasts the poblanos until the skins char and blister, then covers them in a bowl to steam. To round out the dish, pickled mustard seeds bring a bright acidity as well as added texture, while melted leeks add a soft and subtle allium component.
Wilted arugula injects a peppery bitterness, and sautéed oyster mushrooms lend an almost fruity aroma. Finally, the roasted cipollini demi-glace bridges all ingredients into one cohesive experience.
"Each element on its own can be delicious, but bringing together all the components in a balanced manner can be enlightening," says Staerkel.