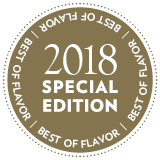 As global flavors continue to shine on menus, it's no surprise that these Thai-inspired wings are a customer favorite. Adventurous but familiar, the Thai Sticky Wings from Chroma Modern Bar + Kitchen, an American small-plates concept, delivers bold layers of flavor and texture.
Soaked in a 24-hour marinade spiked with garlic, ginger, cilantro, tamarind and soy sauce, the wings are then roasted and fried until hot and crispy.
They're tossed in Thai sticky sauce with a base of sweet chile, tamarind, cilantro, green onion, mango, coconut milk and lime juice.
"Most dishes we create are looking for balance, and this one hits the nail on the head. The wings are sweet, spicy, acidic, salty and savory," says Executive Chef Jason Bergeron. "The sweetness cools down the heat, and the acidity tones down the sweetness. The saltiness makes the whole dish pop, and that unique umami experience is happening in the background."
For modern textural play, the wings are topped with crushed peanuts, green onion and crispy strips of spring-roll wrappers."Every time we feature these wings on the menu, we sell out instantly and get rave reviews," he says.
"They tend to fly out of the kitchen."