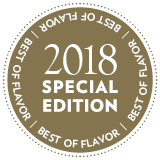 Adapting a classic flavor profile into a brand-fit toasted sandwich has been a winning move for Quiznos, resulting in a fan-favorite limited-time offering for the chain.
Quiznos' culinary team tapped into the Italian scampi flavor to create its Lobster & Seafood Scampi Bake, starting with a base of sustainably sourced North Atlantic lobster meat mixed with Alaska pollock and/or Pacific whiting.
It's served on a choice of Quiznos' artisan breads with a spread of aïoli and topped with mushrooms and onions sautéed in herb-infused oil, and fresh tomatoes.
A slice of mozzarella is added, and it's sent through Quiznos' signature toaster, where the flavors are amplified, says Chris Ruszkowski, Senior VP of Marketing. "The toaster melds all the flavors to work together in a wonderful harmony: The rich, creamy aïoli spread melts into our hot lobster and seafood just like traditional scampi dishes. The sautéed vegetables and fresh tomato give each bite texture, and the cheese binds the flavors in a warm blanket all wrapped up in our artisan toasted bread."
Ruszkowski attributes its success to the craveable scampi flavor combinations brought together in a toasted sub sandwich. "Our overall mix on all lobster and seafood products has been strong. However, to our surprise, our Lobster & Seafood Scampi Bake has surpassed our Classic Lobster & Seafood sub in mix," he adds.
"It's become a fan favorite."