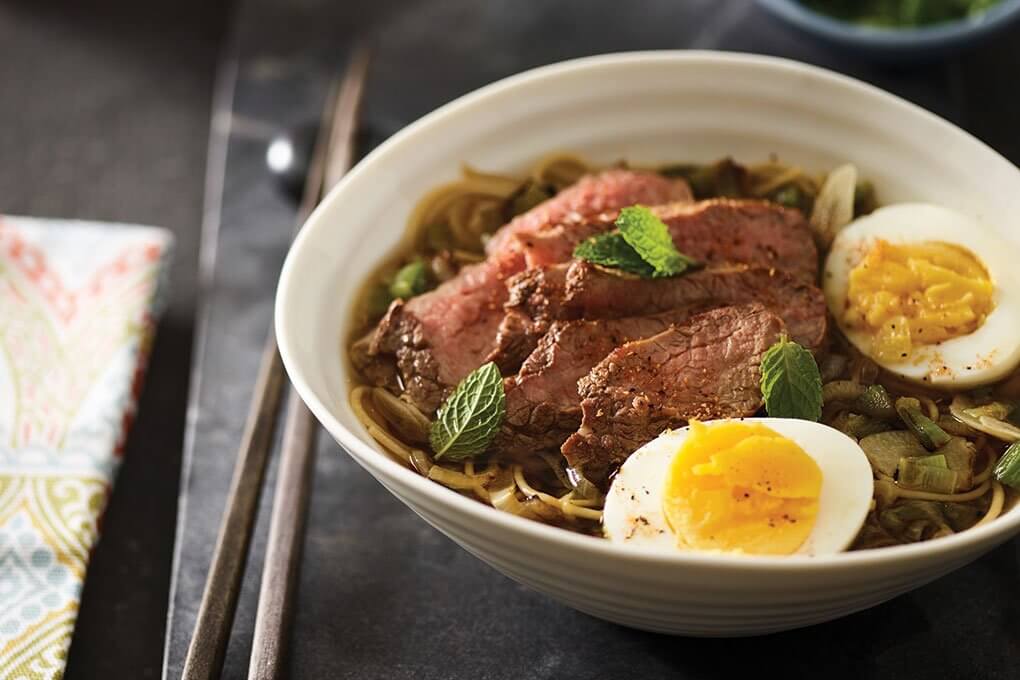 By Flavor & The Menu
April 19, 2019
New Orleans boasts a rich food culture informed by a number of immigrant populations. Yaka Mein, a comforting beef noodle soup, was created by Chinese immigrants, many of whom built the railroads and worked in the sugar plantations of the South in the mid-19th century. Today, it's found in both Creole and Chinese restaurants in New Orleans, with chefs putting their own spin on it.
This version of Yaka Mein was created for a pop-up dinner in New Orleans by the chefs from the National Cattlemen's Beef Association (NCBA), who partnered with Gus Martin, Executive Chef of Dickie Brennan & Co. restaurant group.
"While Asian dishes aren't usually thought of when it comes to Creole cuisine, it is actually very common in New Orleans," says Laura Hagen, Senior Director, Culinary Innovations Team, NCBA, a contractor to the Beef Checkoff.
"This build includes ribeye cap, Brennan's own house seasoning, angel hair pasta, Crystal Hot Sauce, a hard-boiled egg for eye appeal, a touch of creaminess and feeling of comfort, finished off with a mint garnish for freshness."
Although Yaka Mein is a local specialty, its combination of Chinese and Southern flavors sets it up nicely for wider adoption. "We have been seeing an increase in popularity in both Southern food and Asian cuisine," says Hagen. "Combining these two trends makes this dish a 'best of.'"