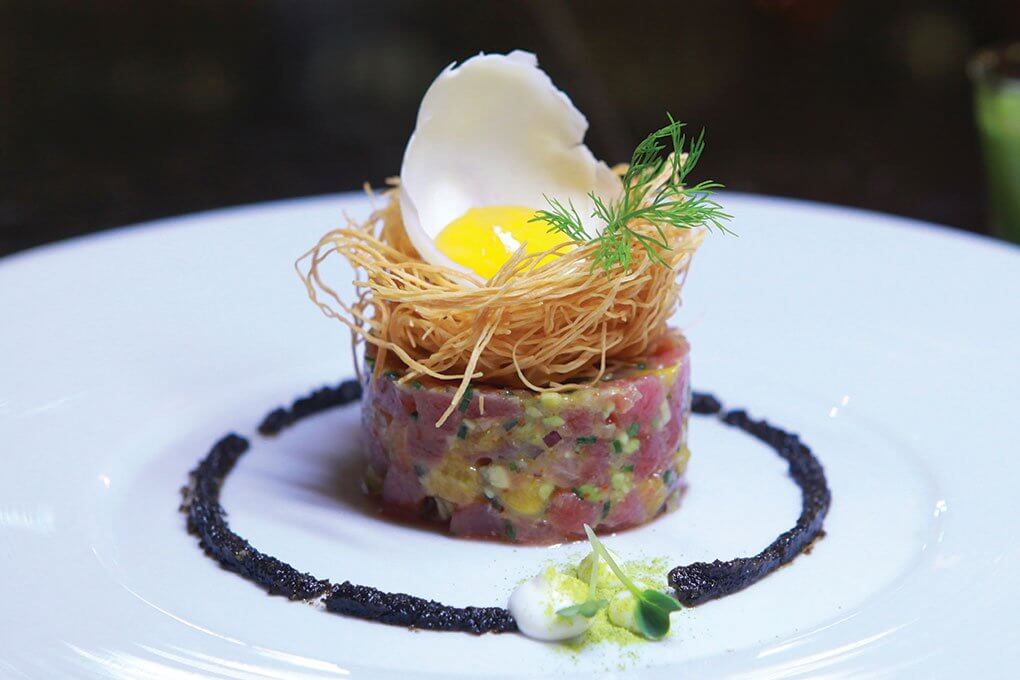 By Flavor & The Menu
April 19, 2019
The Tuna Tartare served on all 26 ships of Carnival Cruise Line is the true definition of an elevated experience, where each element is a work of art and a study in flavor building. The starter combines molded ahi tuna with: an avocado salsa, onion and chive vinaigrette, mushrooms, chives, fresh grapefruit and orange, togarashi, Sriracha and miso powder.
It's then topped with an edible "nest" made of shredded phyllo dough that holds an "egg shell" made of a rich cheese crisp. The "yolk" is a yuzu sphere made with yellow pepper purée, orange juice and sugar. The plate is garnished with a ring of black olive-almond pesto, and two dollops of aïoli with green pea dust. The final touch is an avocado leche de tigre, which is served on the side.
"The combination of flavors, textures and layers makes this dish one of our favorites to make and so special to us," says Girish Chandran, Chef de Cuisine, Carnival Horizon. "There are citrusy and salty notes, soft and crunchy textures, juicy and sharp flavors, and so on. To be able to take all of these elements and make a delectable dish that is not only enjoyed but craved by our guests, is extremely rewarding."