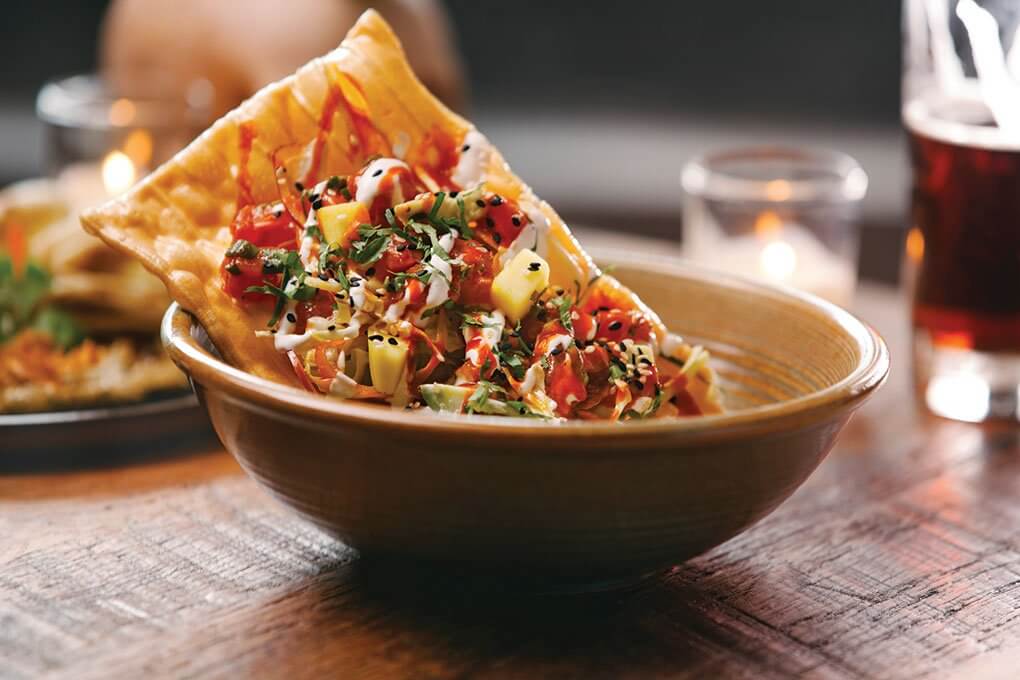 Texture is the star in the Spicy Tuna Chilindrinas at Lolita, a Mexican concept with a Gothic vibe. Corporate Executive Chef Juan Pedrosa describes chilindrinas as the "cousin to the hot and cheesy nachos." Here, the tortilla chips at the center of nachos are swapped out for duros, puffed wheat crackers. A common Mexican street food, chilindrinas typically consist of duros topped with shredded cabbage, pork skins, tomato, sour cream and avocado.
At Lolita, the Chilindrinas include cucumber, red onion and shaved green cabbage marinated in pineapple-habanero vinegar and olive oil, spread atop pinwheel duros. Next comes raw diced tuna that's spiked with chile and soy vinaigrette, plus scallions and cilantro. Crema and hot sauce cover the two layers, which are topped with avocado, mango, sesame seeds and smoky chile flakes.
"Sweet, salty, acidic notes hit the tongue almost immediately," says Pedrosa. "Chilled tuna and soy follow shortly after with a burst of umami. You may follow your next bite with a naked duro just to reset your taste buds." Since the duros break apart with ease, the Chilindrinas are easy to share. Their success points to the potential for the next iteration of craveable Mexican comfort food.