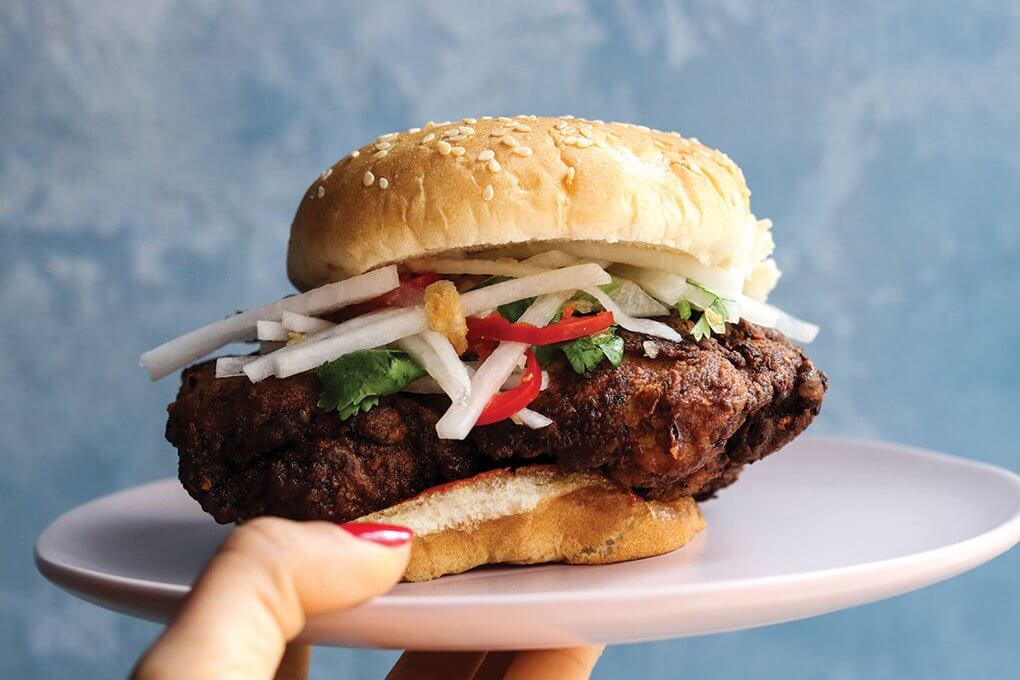 As Korean fried chicken and Japanese karaage continue to win fans, they're paving the way for other global takes, such as the version at 886, serving modern Taiwanese dishes.
The Spicy Fried Chicken Sandwich draws its inspiration from a spicy chicken sandwich only available at McDonald's in Taiwan. At 886, an entire leg of chicken is marinated in rice vinegar, rice wine, sugar, white pepper, soy sauce and a house chile powder, then deep fried.
It's then placed on a toasted sesame bun and topped with a spicy white daikon slaw. The large size and vibrant colors of the sandwich make it one of the restaurant's most Instagrammed dishes, while its balance of flavor and textures make it a standout culinary experience.
"Similar to most Taiwanese food, the sandwich blends savory and sweet notes," says Chef/Co-Owner Eric Sze. "It is the perfect messy and spicy sandwich, with juicy, crispy fried chicken at the forefront." Sze has crafted a mini version of the sandwich for 886's late-night menu, bringing together fried chicken, Thai basil and a signature hot sauce. The Spicy Fried Chicken Sandwich performs well, demonstrating yet another successful iteration of fan-favorite fried chicken.