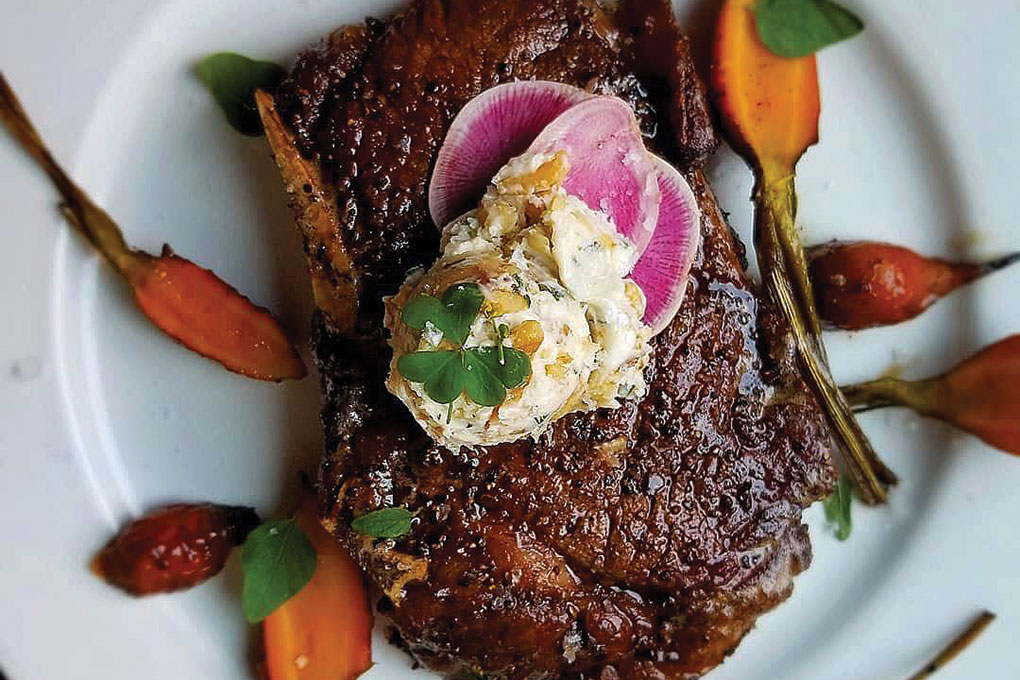 By Flavor & The Menu
April 19, 2019
Flavored butters introduce a round, rich mouthfeel amplified by whatever ingredients are added to it. Chefs have been playing in this arena for a long time, from maître d'hôtel butter to more recent iterations, like Sriracha butter and roasted poblano butter.
Executive Chef Chad Rosenthal of The Lucky Well, a modern barbecue restaurant, goes for a complex, unexpected and incredibly savory version with his Smoked Walnut and Blue Cheese Butter.
He smokes walnuts, seasoning with smoked paprika, then chops and adds them to softened butter, crumbled blue cheese, fresh parsley and Maldon sea salt. He uses the butter to top a charcoal-grilled dry-aged New York Strip.
"The whole dish is conceptually simple, but the flavors paired together create an umami bomb," says Rosenthal. "The dry-aged fat combined with the richness of the flavored butter works incredibly well with the slightly smoky flavor and crunchy texture of the walnuts.
It's an experience. California walnuts pair perfectly with beef, and the mild flavor of the walnuts don't overpower the blue cheese—rather, it enhances it perfectly." He has also used the flavored butter as a topper for warm cornbread. "It's amazing and adds a layer of flavor to the already delicious and comforting cornbread," he says.