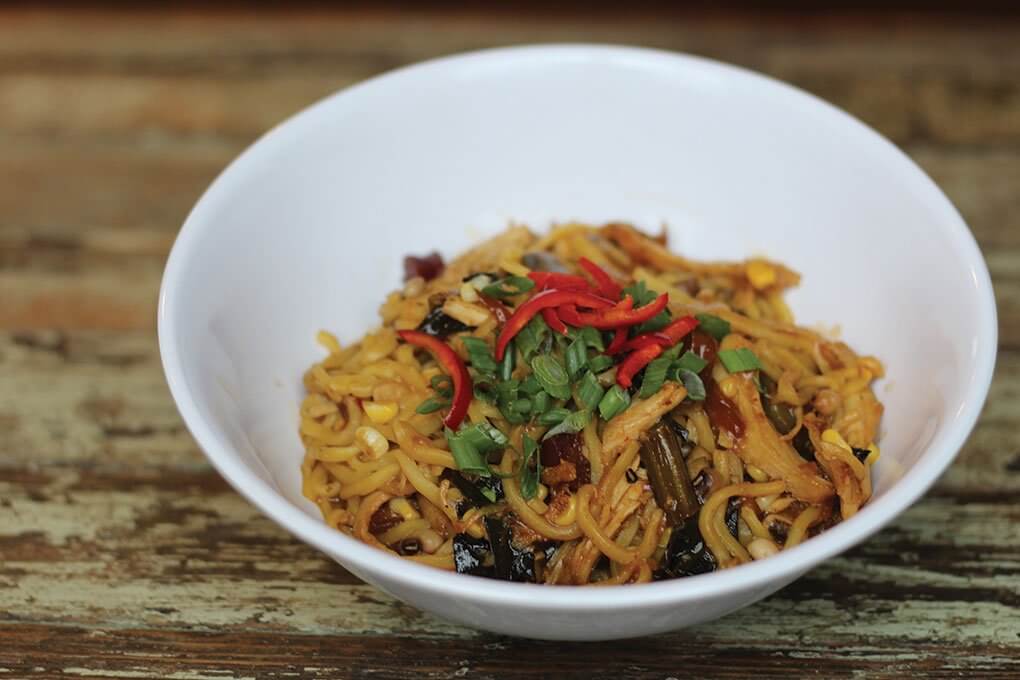 By Flavor & The Menu
April 19, 2019
We've seen the rise of Indian-Southern mash-ups and Mexican-Southern mash-ups. At Acme Feed & Seed, a restaurant known for its creative cuisine, we're now seeing Chinese and Southern, all in one craveable dish called Redneck Lo Mein.
"I think the success of this dish is its originality," says Matt Farley, Executive Chef. "The juxtaposition of the obvious Asian treatment and a bunch of ingredients we think of as Southern is not something we see on menus everyday—and the flavors work very well together."
For the dish, he sautés peppers, onions, collard greens, black-eyed peas, garlic and corn. He adds the lo mein noodles and a sauce boasting soy sauce, garlic, Fresno chiles and andouille sausage. Scallions are scattered on top.
"As with a lot of Asian foods, we try to balance the flavors of sweet, sour, salty and spicy with the lo mein," he says. "The sauce is salty with soy, sweet from a touch of sugar, and spicy from the andouille and chile. The greens have a slightly sour taste as they are braised with quite a bit of vinegar. The combination of all of these ingredients is balanced with every bite."
The Redneck Lo Mein was not a hit right out of the gate. "It took a little while to become popular," says Farley. "But over time, it has gained quite a fan base. We have people who specifically come in for it."