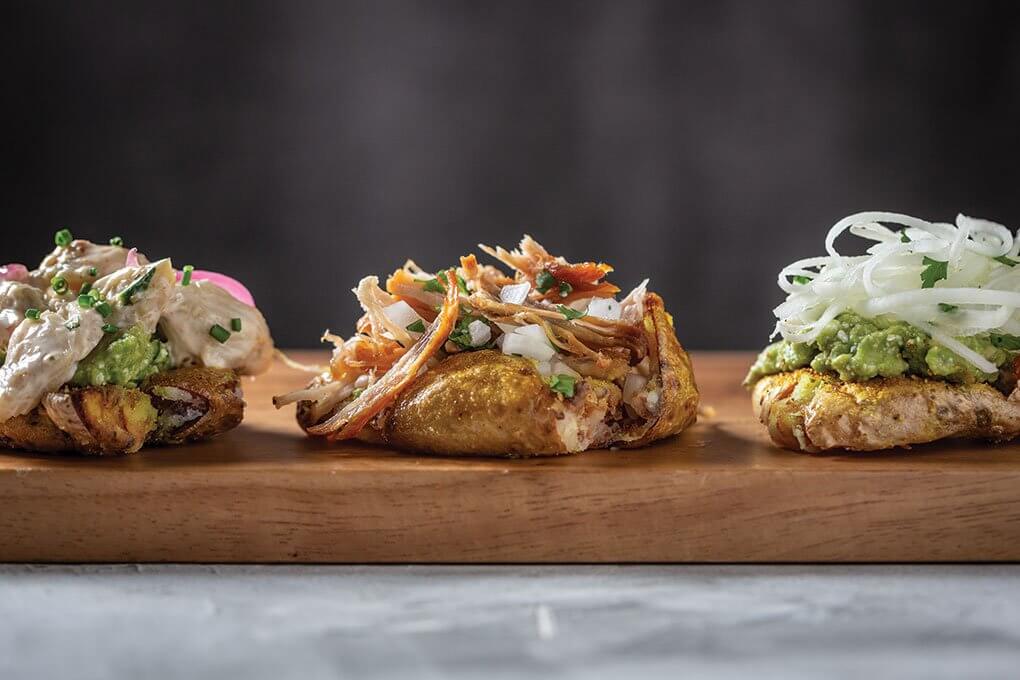 By Flavor & The Menu
April 19, 2019
Fried potatoes are always a glorious thing, but make them a one-bite appetizer boasting any number of toppings? Well, that's taking it to the next level. Dina Paz, Product Development and Innovation Chef Consultant, created Potato "Tostones" on behalf of Potatoes USA.
She par-cooks baby roaster potatoes, gently smashes them, then fries until golden brown and crispy. Versatile and customizable, the potato serves as the carrier for creative toppings. "You can customize the flavor profile," says Paz. For this flight of "tostones," she tossed each of the smashed potatoes in adobo seasoning, then topped each with a different profile—blue crab salad, crispy carnitas, and guacamole finished with ribbons of jicama. "You can go further and coat the potatoes in an everything-bagel seasoning, and top with smoked salmon."
One of the great things about the Potato "Tostones" is how chefs can signaturize them. "For example, we've already seen chefs regionalize the dish by breading and frying the potato like a chicken-fried steak, then tossing it in Buffalo sauce for an even crispier and spicier version," says Paz. She suggests other creative ways to interpret this starter: using a colorful potato variety like purple or rose; building a potato salad with them; or using them to update nachos.