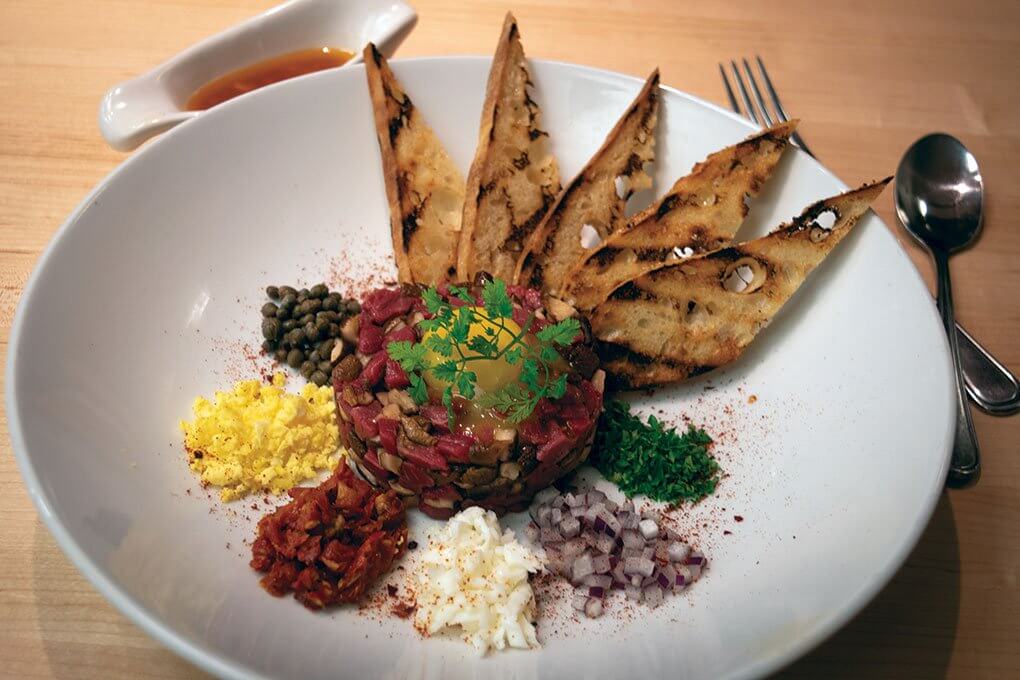 By Flavor & The Menu
April 3, 2019
The hallmark of the modern steakhouse is taking traditional menu items and updating them in creative ways. At Fleming's, Corporate R&D Chef Jessica Tomlinson reimagines steak tartare in a clever, flavor-forward rendition. Run as a special feature, the Mushroom and Steak Tartare combines raw beef tenderloin with roasted shiitake mushrooms, all flavored with a smoky chile vinaigrette.
A pasteurized egg yolk crowns the appetizer, which is served with classic tartare garnishes and sourdough toast.
"This is a unique spin on a traditional steakhouse dish using a few components to create flavor surprises—the smoky chile flavor, the roasted mushrooms," says Tomlinson. The blend of mushroom and beef has found the spotlight in recent years—this tartare leverages the meatiness of mushrooms in much the same way as trending blended burgers.
"The mushrooms add depth of flavor, which enhances the beefiness and gives a punch of umami," she says.
Tomlinson is currently working on a vegetarian version of the tartare, starring the mushrooms without the assist from the beef.