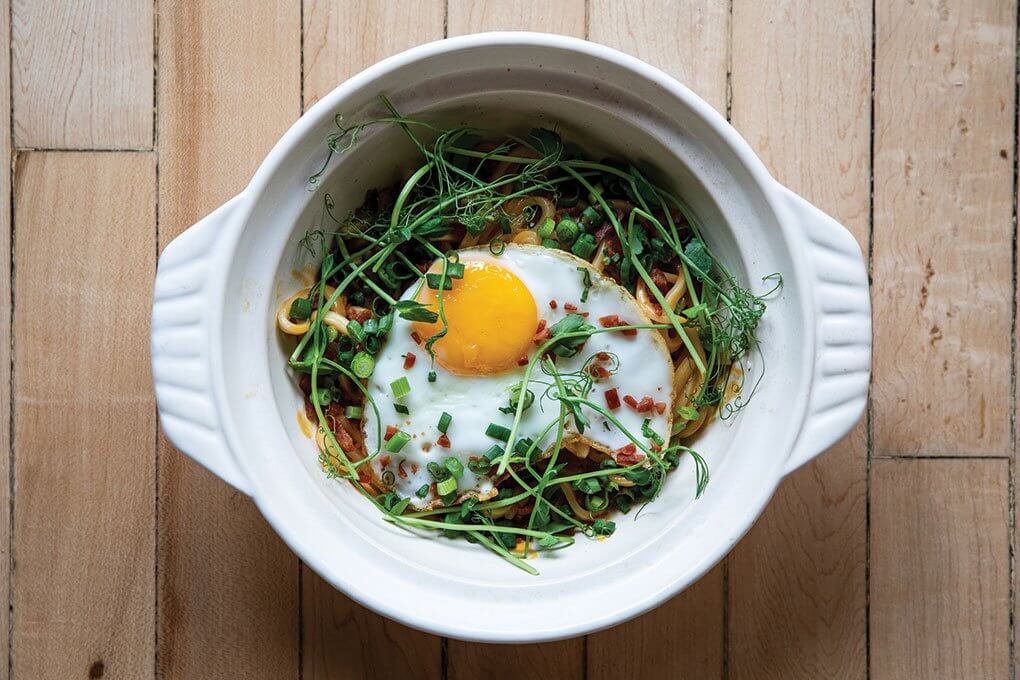 Ubiquitous in both Asian and Italian cuisine, noodle dishes are a natural format for Asian-Italian mash-ups. At Japanese pub concept Antihero, the Kimchi Carbonara serves up a clever combination of craveable flavors.
The dish reflects the culinary background of Executive Chef Nick Erven. The first dish he learned to make in culinary school, pasta carbonara, quickly became one of his favorites. After school, Erven worked in Koreatown in Los Angeles, so when creating a carbonara for Antihero, he wanted to bring Korean flavors to the dish.
Erven begins by combining udon noodles with kimchi cream (kimchi and cream cooked together, then blended and strained) to form the base of the pasta dish, then tops it with Spam crumbs, green onion and a sunny-side-up egg. "The egg gives an extra richness—when mixed with the kimchi cream it almost has a cheese-like quality," says Erven.
Pea tendrils take the place of carbonara's typical peas. "They work to brighten up the heaviness and add a little bit of levity to the dish."
The result is a spicy and creamy mash-up that has been a hit for Antihero. Says Erven, "I think people are surprised how well it all works together."