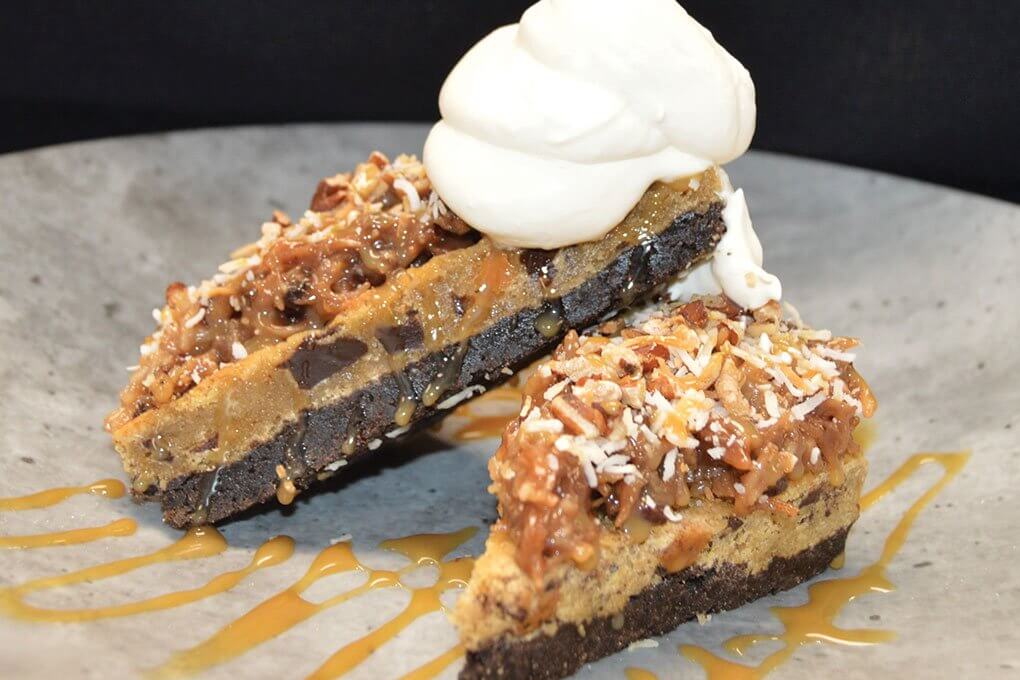 By Flavor & The Menu
April 19, 2019
Mark Ching, Executive Chef of Loews Hollywood Hotel, was inspired by a blondie served at Duidough Café & Cookie Lab in Los Angeles. Duidough is one of Loews' partners in its "Flavor by Loews Hotels" program, which brings hyper-local products into the hotel properties. Taking inspiration from Duidough's unique blondie recipe, he thought, "Hollywood … blondie. Hollywood … blonde."
"What caught my attention was Duidough's interpretation of a blondie, which is normally pretty one-dimensional in flavor and textural profiles," Ching says. His Hollywood Blondie starts with Duidough's version of a blondie, a base of Oreo cookie crumbs layered with chocolate chunks and a caramel blondie.
Ching then adds a signature flourish of German chocolate cake icing (toasted pecan caramel laced with roasted coconut and a touch of Maldon sea salt), vanilla-scented whipped cream, and more toasted shaved coconut.
"The Hollywood Blondie is a best seller on both our room service and H² Kitchen & Bar dessert menus," says Ching.