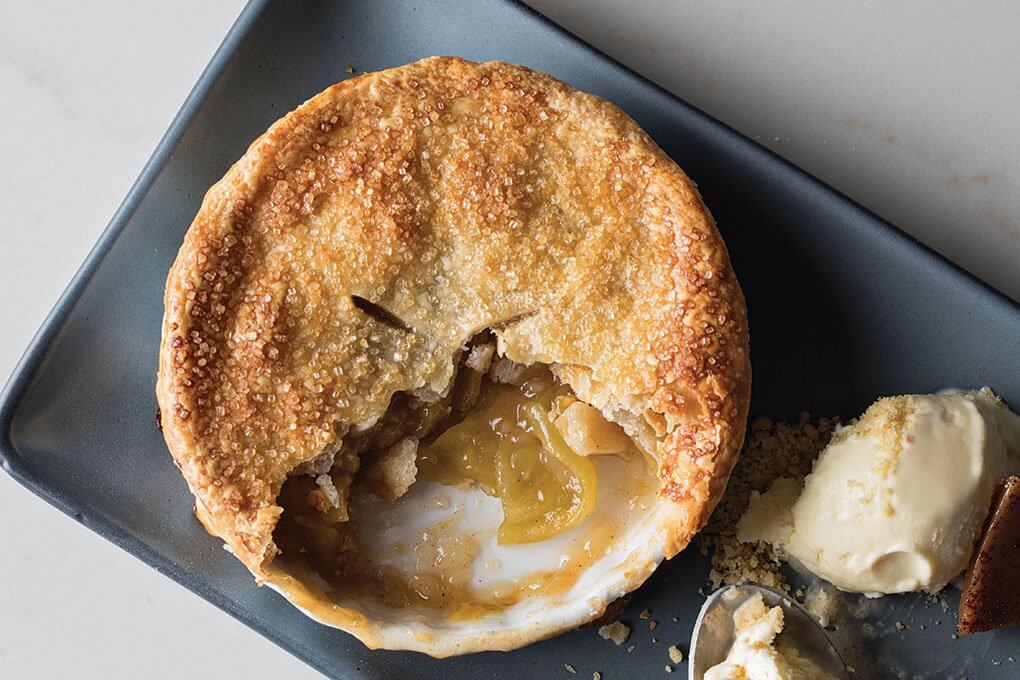 By Flavor & The Menu
April 19, 2019
At Parcel 32, a coastal and seafood concept, green tomatoes replace apples in a pie, giving it a creative Southern spin. For the Green Tomato Pie, Pastry Chef Lauren Yerrick found inspiration in fried green tomatoes, an ingredient that fellow Pastry Chef Jessica Grossman was enthusiastic about after using it in a green tomato coffee cake.
"I'll admit, I was hesitant when Jessica brought it up," recalls Yerrick. "But I decided to take that idea and reimagine it as a dessert."
Apple pie was the natural candidate for a tomato twist. When baked, green tomatoes have a similar texture to baked apples, and without an overpowering flavor, they're malleable.
To make this unique dessert, Yerrick combines warm green tomatoes with spices in a personal-sized pie dish, then covers it with a flaky crust and raw sugar. Once baked to golden brown, a scoop of buttermilk ice cream accompanies the pie, with a finish of sumac-dusted toffee that enhances the dish's flavor and local narrative.
"The sumac, which you can find being grown right here in South Carolina, offsets the sweetness of the toffee and gives it a nice tart, citrus-like quality," says Yerrick. She admits that guests often take some convincing to try a dessert made with tomatoes, but when they do, they're quick converts.
"I am now thoroughly convinced this humble fruit has a lot more to offer than one might think, and will definitely continue to explore and create new and exciting dishes," says Yerrick.