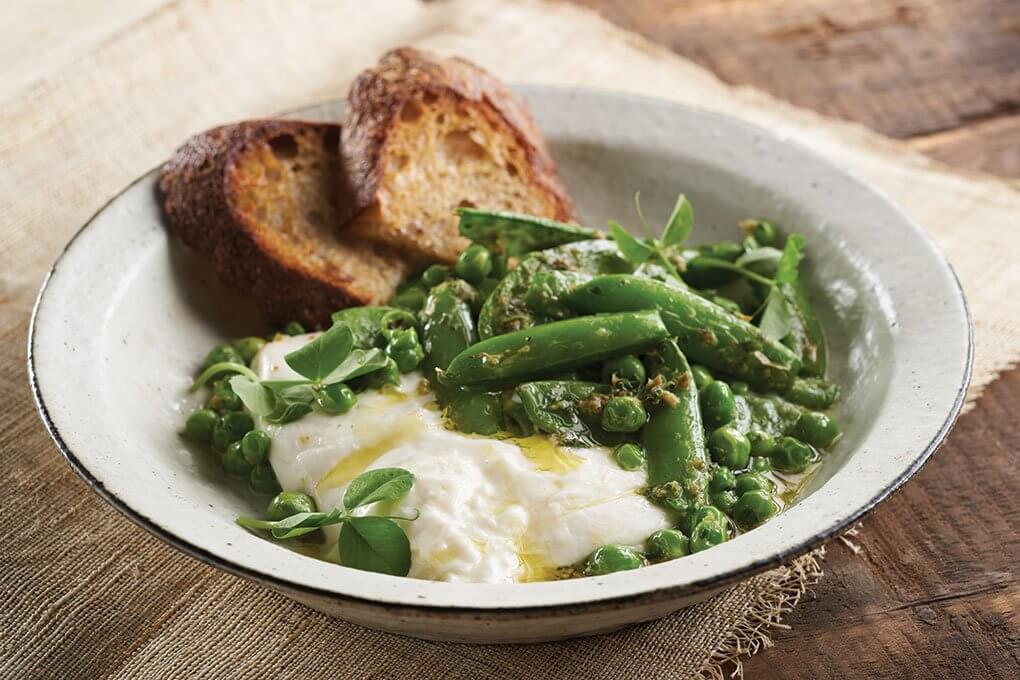 By Flavor & The Menu
April 19, 2019
A shareable starter of Charred Spring Peas with burrata gives a fresh twist to classic spring flavors. Created by Chef Hunter Pritchett while he was at Melody in Los Angeles, in collaboration with the California Milk Advisory Board (CMAB), the dish is complete with a tangy sauce verte that brings bright notes from citrus, capers and herbs. The burrata is flattened so the creamy center bursts through the firm outer layer of the cheese. It's served with crusty bread for scooping.
"Burrata's milkiness brings the sweet and tangy together, and the smooth mouthfeel contrasts with the crisp peas," says Jennifer Giambroni, CMAB's Director of Marketing.
"This dish feels fresh, but also indulgent and comforting. The more people experience soft-centered burrata, the more they want. This is an unexpected way to use it." Other cheeses could sub in here. "A pool of ricotta could work as a base, and a salty, crumbly feta would turn this into a more traditional salad," she says. "Or, add ribbons of pappardelle to transform this dish into a fresh pasta course."