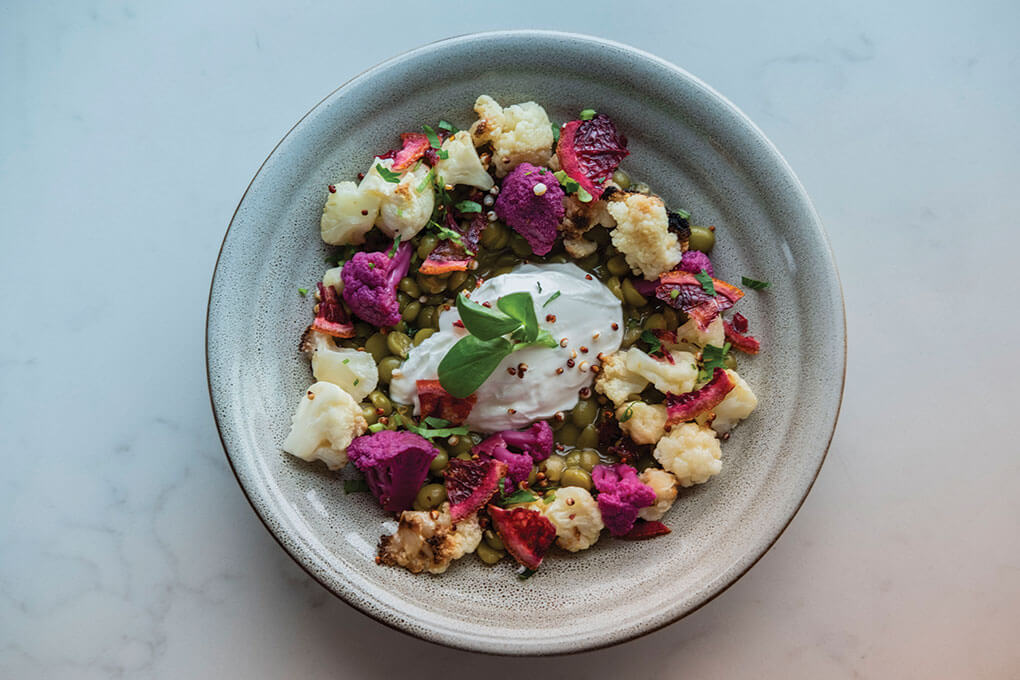 By Flavor & The Menu
April 3, 2019
If we were to proffer a case study of a modern veg-centric dish, it would probably look something like the Cauliflower appetizer at the globally inspired Santo Cielo. The dish layers intriguing flavors and textures, making the vegetable a craveable appetizer. Starring pickled purple cauliflower, roasted white cauliflower, chickpeas, red quinoa and a dollop of labneh, this plant-powered dish serves up contrasting, savory flavors and textures without ever overpowering the delicate and delicious flavor of the star vegetable.
"Each component adds another layer of flavor and texture in hopes of achieving an umami bite," says Executive Chef Gama Martinez. "Our global approach at Santo Cielo allows us to find inspiration in classic Mediterranean and Middle Eastern cuisine without alienating our local audience."
Pickling some of the cauliflower and roasting the rest sets up a pleasing contrast of acidic and woodsy, and the labneh introduces a creamy, tangy counterpoint. "This dish has been well received by the majority of our guests," says Martinez.