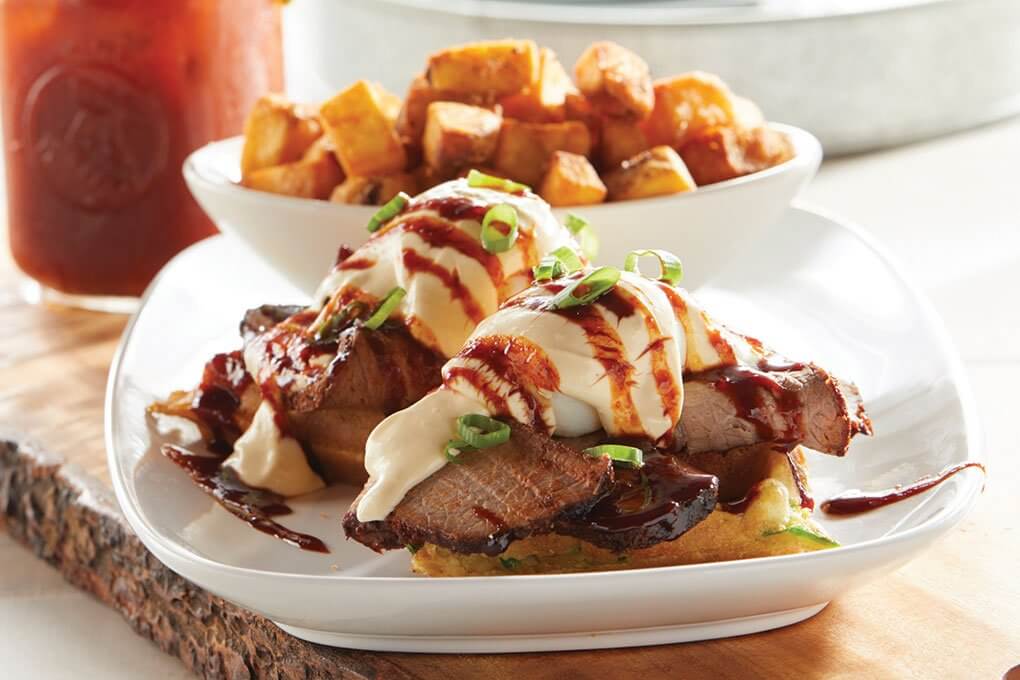 By Flavor & The Menu
April 19, 2019
Merging Southern-inspired dishes with global flavors is a passion of Jason Knoll, VP of Culinary at Another Broken Egg. In the Brisket Benedict, he breaks down a classic brunch favorite, eggs Benedict, and builds it back up using sweet, hot and savory components, with a surprising global twist. This dish was featured on a test menu in 2018, and more than earned a spot in the brand's regular rotation.
Most Benedicts begin with an English muffin, but Knoll starts with a jalapeño-cheddar cornbread waffle fresh off the Belgian waffle iron, with the savory cheeses melted right in. "The cheese browns up so nicely on the outside. It always reminds me of the best part of a grilled cheese sandwich—the cheese that escapes and crusts up in the pan," he says.
Traditional recipes call for ham next, but this one sees brisket instead. Thin slices of slow-cooked brisket sit in between the waffle and poached egg. That's topped with housemade hollandaise, gochujang and a sprinkle of green onions. "You don't have to know how to pronounce 'gochujang,' but you can certainly enjoy the flavors," says Knoll.