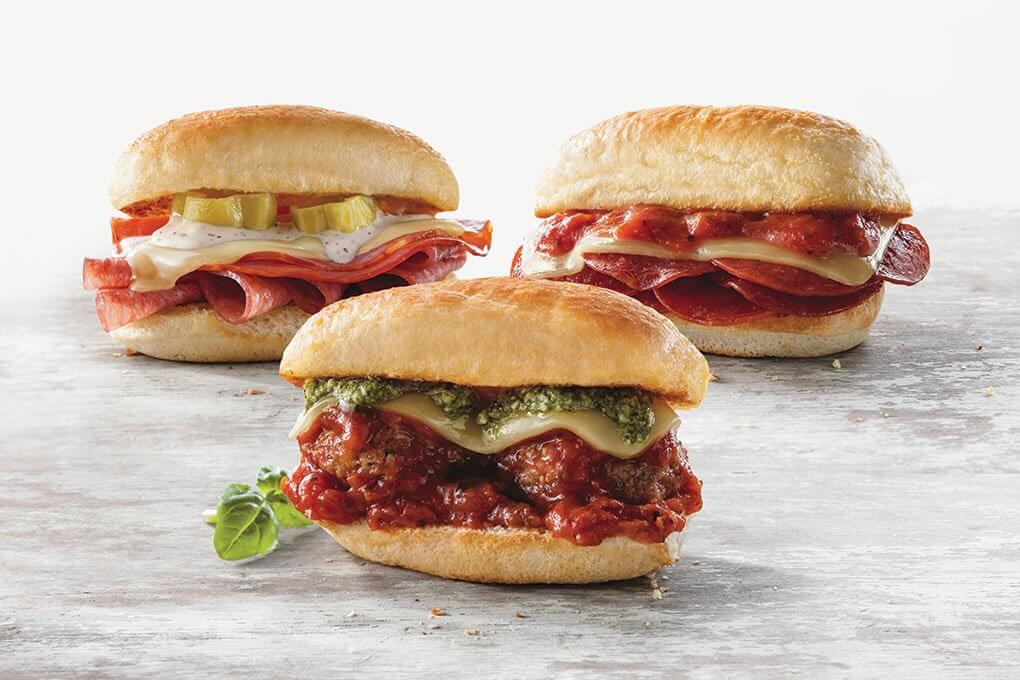 By Flavor & The Menu
April 19, 2019
It's a tricky endeavor, innovating around an iconic menu item. Italian-American fast-casual concept Fazoli's took a chance and knocked it out of the park with its Breadstick Sliders. In fact, Rick Petralia, R&D Chef, calls them a "game changer" for Fazoli's. "Our guests come to our restaurants because they are craving breadsticks, so we gave them another reason to crave them," he says. "We leveraged the trend of targeting nontraditional dayparts and snacking in a way that was very fitting for our brand."
Guests can choose from three types: Smashed Meatball (with marinara, mozzarella and basil pesto), Spicy Italian (capicola, Genoa salami, mozzarella, pepperoncini, Parmesan-peppercorn sauce) and Pepperoni Pizza (with marinara and mozzarella). These snack-sized sandwiches star slider buns made with dough from Fazoli's famous breadsticks. They're brushed with garlic butter, baked and then filled with the different ingredients.
"We wanted to make sure that these breadstick snacks had the same garlic, buttery flavor as our breadsticks," says Petralia. "At the same time, we wanted the flavors to be nuanced. For example, the meatballs in the Smashed Meatball Breadstick Slider provide a lot of umami with the beef and Parmesan cheese notes. The mozzarella adds the perfect amount of cheese pull and creaminess, while the basil pesto adds unexpected flair. The marinara rounds it all out and makes it the best meatball sandwich you've ever had, despite its size. Most importantly, the buttery slider bun adds crunch, unctuousness, garlic, and the perfect amount of saltiness."
The sliders were so successful as a limited-time offering, they're now on the core menu. "We have added a Snacks & Shareables section to our menu, and we continue to look for ways to develop the line," says Petralia. As part of that extension, Fazoli's will be testing a Pepperoni BLT Breadstick Slider, Chicken Parmesan Breadstick Slider and Smoky Bacon Breadstick Bites with Gouda dipping sauce.