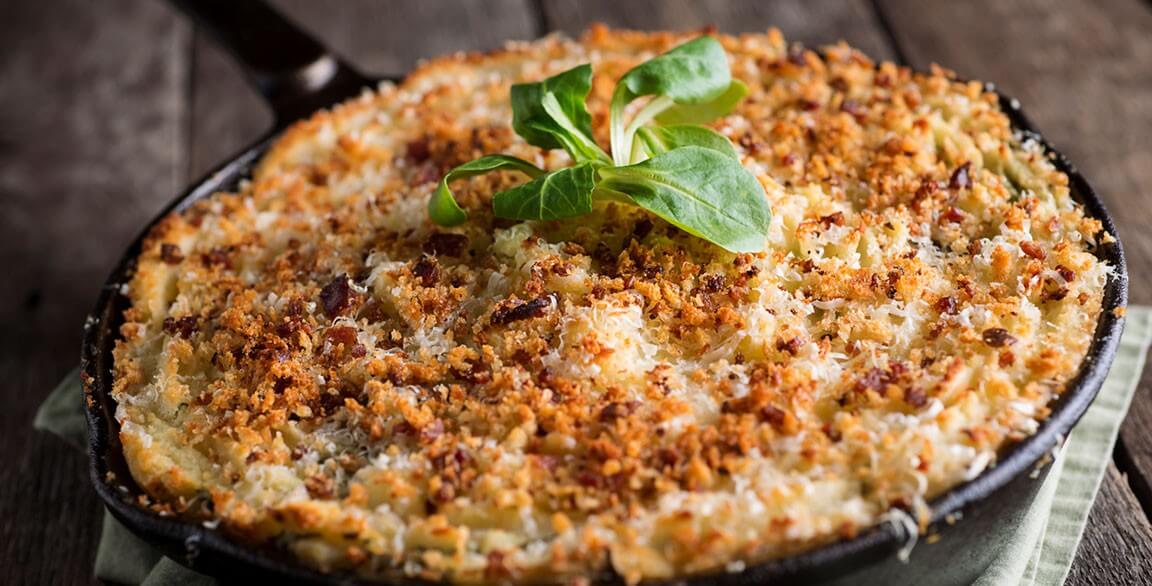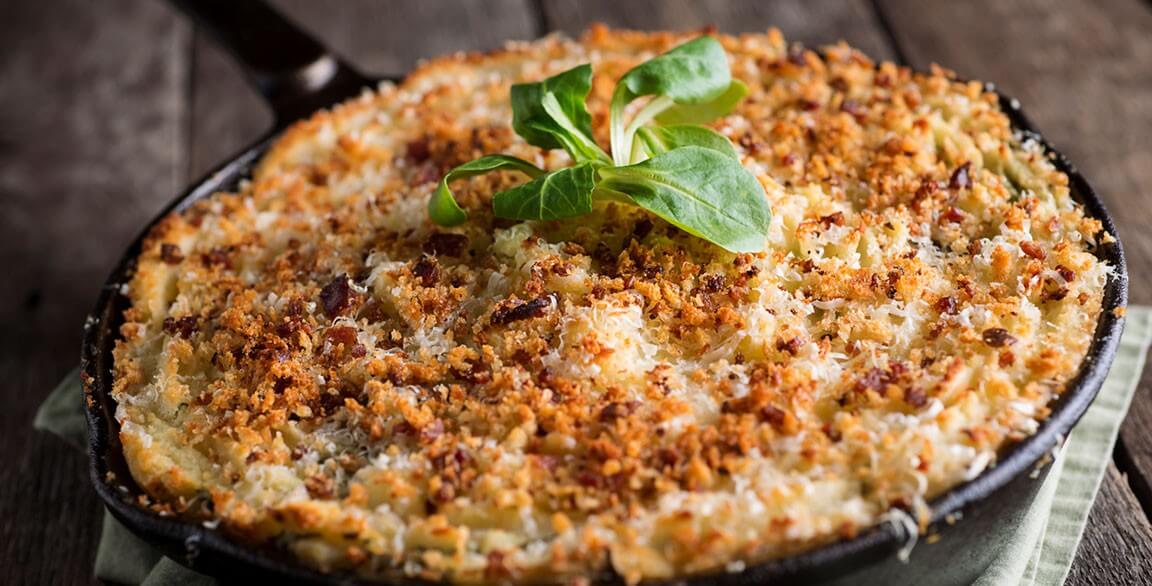 Comfort has become an underpinning theme for a lot of menu development recently, and is certainly a natural play for takeout menus. The sentiment fits current lifestyle needs and resonates with consumer tastes. One way that operators have been effectively addressing those needs is through casseroles and bakes, adding culinary technique and creative flavor combinations to help differentiate their offerings.
Smart approaches include plant-forward updates of classic favorites, showcasing trending, craveable ingredients, introducing premium global flavors and most importantly, inserting signature culinary styles.
We've outlined ideas to inspire your operation's future thinking.
"Try This"
Cauli Mac n' Cheese Bake: Cauliflower gnocchi tossed in pancetta-fontina Alfredo sauce then topped with crushed pork rinds and Asiago cheese breadcrumbs; baked
(cauliflower gnocchi replaces traditional pasta)
Moroccan Shepherd's Pie Bake: Slices of slow-roasted lamb shoulder topped with caramelized ras el hanout-spiced root vegetables, pistachio gremolata and whipped Yukon gold potatoes; baked
(Moroccan flavors add opulence)
Roasted Chicken, Broccolini & Grains Casserole: A cooked blend of red jasmine rice/wild rice/black quinoa topped with herb-roasted boneless chicken thighs, caramelized onions, blanched broccolini spears, creamed chicken soup and grated white cheddar cheese; baked
(broccolini replaces broccoli and whole grains replace white rice for premium cues)
Gaucho Casserole: Arepas topped with shreds of braised beef, charred peppers/onions/tomato and buttered potato purée, topped with chimichurri and Jack cheese/queso fresco blend; baked
(trending South American flavors replace classic Mexican casserole flavors)
Everything Bagel Breakfast Bake: Rustic pieces of lightly toasted everything bagel, peppered bacon pieces, scallion, blistered red onions and cream cheese egg batter (strata style); baked
(everything bagel replaces basic bread for flavorful upgrade)
Cheesy Carnitas Tetrazzini: Spaghetti, carnitas, sliced cremini mushrooms, minced pimentos tossed in savory cheese sauce and topped with Parmesan breadcrumbs; baked
(cheese sauce replaces the garlic/onion base and carnitas replace chicken or turkey)
Bolognese Pizza Casserole: Garlic breadsticks topped with hot Italian sausage Bolognese and ricotta/mozzarella cheese blend; baked
(garlic breadsticks replace pizza dough and sausage Bolognese replaces pepperoni)
FEATURED RECIPE