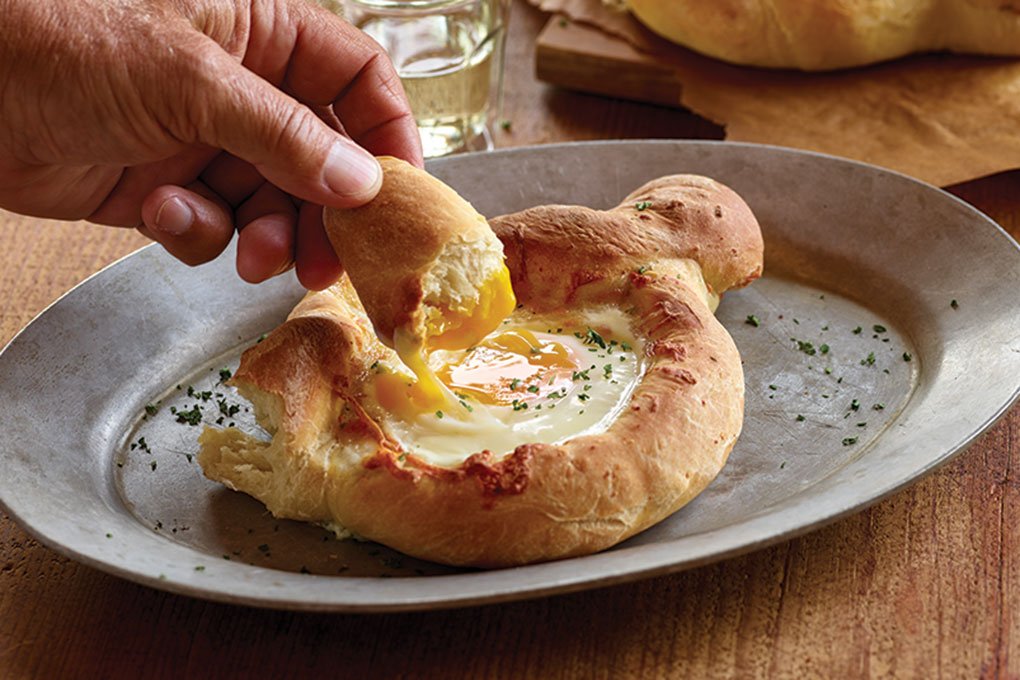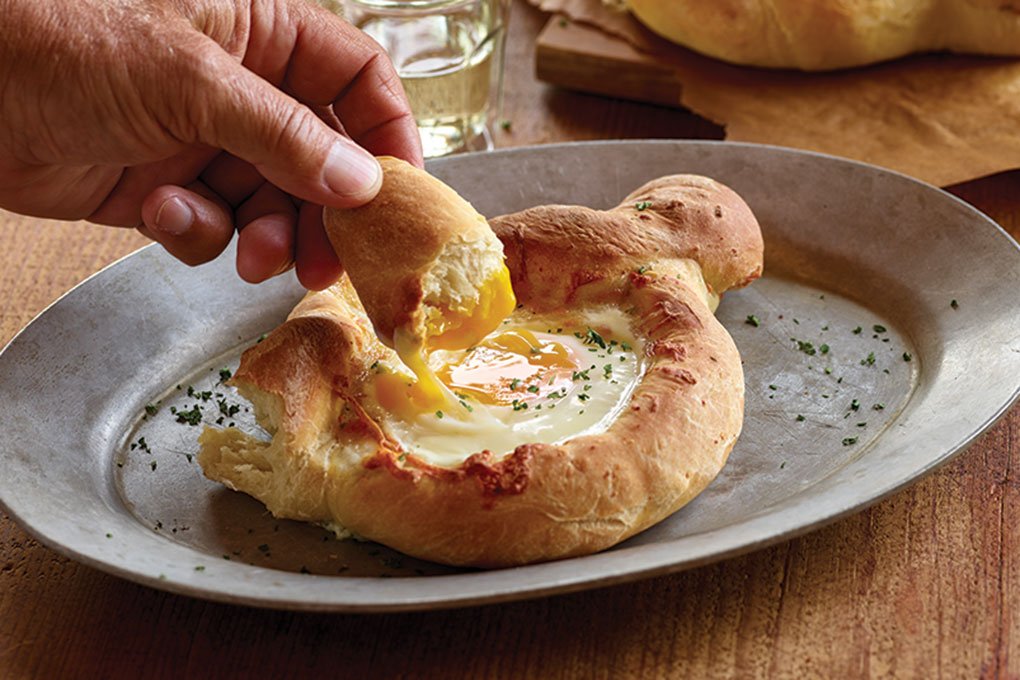 Adjarian Khachapuri, a regional specialty from the country of Georgia, consists of the classic cheesy flatbread stuffed, brushed or, in this case, topped with an egg. The uniquely shaped, tapered bread provides a rainbow of textures—crispy brown tips, layers of folded dough/cheese, and the open center with salty cheese and a luscious egg yolk. Courtesy of American Egg Board
INGREDIENTS
4 eggs
4 tbsp unsalted butter
2 tbsp chopped parsley
The Dough
2-2/3 cups all purpose flour
1 tbsp salt
1/2 tbsp instant dry yeast
1/2 tsp sugar
1-1/2 cups water – tepid
2 tbsp olive oil
Filling
3 cups mozzarella – shredded
1-1/4 cups feta cheese crumbled
Salt to taste
INSTRUCTIONS
Lightly oil large bowl with olive oil and set aside.
In a stand mixer with dough hook, combine all dough ingredients. Mix on first speed until dry ingredients are wet.
Turn up to second speed and mix 3 to 4 minutes until dough becomes shiny and smooth.
Transfer to oiled bowl and cover with towel, place in warm place and allow to double in size, (about an hour).
Place a pizza stone in center of oven and preheat to 500°F.
Turn dough out on lightly floured surface and divide into 4 – 6-oz. balls, cover and let sit for 15 minutes.
Meanwhile, mix all filling ingredients together.
On lightly floured parchment paper, roll out dough into 10-in. circles.
Divide three-quarters of the cheese filling mixture among four dough circles, leaving ½-in. border. Working around the edge, roll the dough inward to create a pizza crust looking edge.
Take remaining cheese mixture, divide into four and place in center of circles.
Pinch both sides of dough and give a twist as if wrapping a mint candy.
Brush edges with olive oil and place on hot pizza stone. Bake approximately 15 minutes until dough is brown, and cheese is hot and melted.
Remove from oven. Add raw egg on top of hot cheese and return to oven 3 to 4 minutes until eggs are just set.
Remove and add one tablespoon of butter to each loaf.
Garnish with chopped parsley. Serve immediately.
RECIPE NOTES
Courtesy of American Egg Board