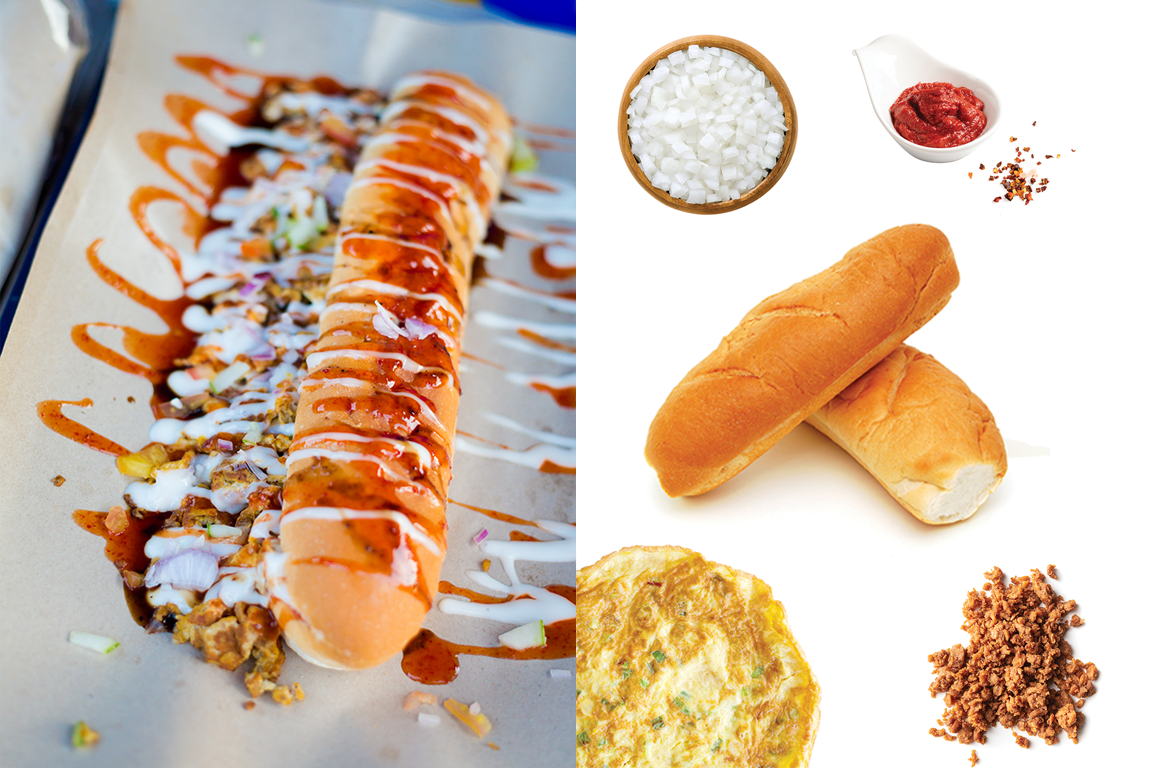 A Global Opportunity: Roti John
This humble omelette sandwich offers a world of opportunity
A Global Opportunity: Roti John
This humble omelette sandwich offers a world of opportunity
By Rob Corliss
November 9, 2023
By Rob Corliss
November 9, 2023
The roti john sandwich is said to have originated in Singapore some 50 years ago, quickly spreading to Malaysia and becoming a beloved street-food mainstay. While somewhat unfamiliar among American diners, its craveable flavors—a meat-centric omelette carried within a sauced hoagie—are easy to embrace, putting this classic Asian sandwich on course to gain rapid menu traction.
The fundamental sandwich elements here are prime targets for the easy application of emerging global flavor infusions like top-trending Southeast Asian, Latin/Caribbean, Eastern Med cuisines and more. The roti john can be filled with the widest variety of ingredients, creating compelling flavor and texture combinations that translate across all dining hours and occasions.
Further, the roti john sits at the intersection of three trend directions. First, sandwiches remain a robust menu category for innovation, ripe for new flavor introductions and expressions of versatility. Street-food adaptations are equally on-trend, allowing operators to craft a compelling flavor story, meet needs for on-the-go convenience and explore customization plays and signature identities. Finally, the roti john has an enviable dual dynamic at work; as both a hot, freshly prepared sub and as an egg sandwich, it hits the trend bull's-eye.
Here, we diagram a spectrum of opportunities for infusing emerging global flavors into a roti john. With a trend-forward approach, a few impactful ingredients and culinary creativity, today's chefs can create their own signature versions of this versatile sandwich.
ROTI JOHN: THE BUILD
A mixture of whisked eggs, minced yellow onions, cooked ground beef, curry powder, sea salt and cracked black pepper is poured onto a hot griddle; then the open side of a soft hoagie roll (split lengthwise) is pressed into this runny mixture. When the eggs are fully cooked, forming an omelette on the bread, tuck in their ends and flip over to quickly toast the other side of the roll. Liberally drizzle the omelette side with sambal and mayonnaise, and then fold the sandwich to eat.
BREAD
A soft hoagie-style roll provides the ideal complementary texture. It allows the egg to soak into the bread, delivering a soft chew with edges that will crisp up during griddling.
French or Italian loaf, soft baguette, telera roll, Japanese milk bread, Brazilian cheese bread, challah, Hawaiian-style sweet roll or hot dog buns are all appropriate for larger preparations. Slider buns/rolls or brioche burger buns are options for smaller preparations.
Go gluten-free or use soft whole-grain or vegetable-infused hoagies for healthful cues.
ONION
Raw onion adds texture and an aromatic, along with a mild bite that accentuates the denser flavors in the build.
Try minced or grated sweet onions such as Vidalia or Walla Walla with garlic.
Thinly sliced shallots or scallions can be differentiating elements.
EGG
The luscious egg coating is essential to the roti john's appeal. Traditionally, whisked eggs are flavored with sea salt, black pepper and curry powder; herb and spice blends are an easy way to reflect world cuisines and create a stylized global sandwich flavor. The ratio of egg mixture should just be enough to cover the size of the hoagie while griddling.
Garam masala, dukkah, baharat, za'atar, berbere, quatre épices, jerk, chile pepper dust or adobo are flavorful seasoning alternatives for a meat roti john.
Chaat masala, togarashi, furikake or fines herbes would work well on a seafood or vegetable version.
MEAT
Smaller meat particulates, such as cooked ground beef, easily adhere to the egg-coated hoagie and deliver flavor and substance. Use of pre-cooked meats will reduce the sandwich cooking time and accelerate ticket throughput.
Swap the beef with other cooked ground/minced meats, including chicken, game, chorizo, poultry, lamb, breakfast sausage, Italian sausage, seafood or 'nduja.
Instead of ground/minced, try a fine chop of cooked bacon and carnitas, or shaved beef or ham.
Cooked chopped oyster, shiitake or portobello mushrooms lend alternative unique flavors and textures.
SAMBAL
A saucy pop of flavorful heat cuts through the richness of the build, adding craveable intrigue. An array of spicy, global chile sauces can be tailored to complement any desired sandwich flavor. As an alternative, feature heat-spiked spreads or condiments.
Sriracha, gochujang, harissa, achaar, nam phrik, s'chug, shatta, chile crisp, curry mustard, hot sauce or sweet Thai chile sauce bring in world cuisines.
Ketchup is used in original variations, but consider flavored ketchups, romesco sauce, Calabrian chile-basil pesto, red chimichurri, chipotle barbecue sauce, amba, karashi mustard or a spicy salsa.
MAYONNAISE
A spread of velvety mayonnaise adds decadent richness to balance the sambal and round out the taste experience.
Kewpie mayo, aïoli or a flavored aïoli can bring a lift.
Crema, ranch, guasacaca, skordalia, raita or rémoulade offer similar textures but inject different flavors.
EXTRAS
Further diversify a roti john by adding regional or global cheeses or savory fillings prior to folding the sandwich in half.
Sliced, shaved, grated or crumbled global cheeses or a queso sauce deliver nuanced flavors and textures.
Shredded lettuce and cabbage, cilantro sprigs, micro greens, sprouts, whole leaves of a fresh herb, sliced tomato, pickles, grilled pencil asparagus and even potato chips can transform your roti john.
ROTI JOHN: INSPIRATIONS
With the adaptability of the roti john on full display, stretch your thinking when it comes to breakfast handhelds. These ideas leverage the power of four impactful cuisines—and their corresponding trend-forward flavors—in the breakfast space.
ASIAN
Katsu Roti John: Milk bread roll, soy sauce eggs and sliced scallions; spicy katsu sauce and Kewpie mayonnaise; filled with fried pork cutlet slices
CARIBBEAN
Caribbean BEC Roti John: Soft hoagie, eggs, minced red onion and chopped smoked bacon; banana ketchup and habanero Jack cheese
INDIAN
Masala Roti John: Soft, whole-grain hoagie, eggs, garam masala, chile powder and minced Vidalia onion; red coconut chutney; filled with thinly sliced tomato and paneer
REGIONAL AMERICAN
Sun-Up Roti John: Soft hoagie, eggs, minced onion and breakfast sausage crumbles; cheddar cheese, hot sauce and maple aïoli; filled with crispy shredded hash browns