One of the many advantages in the bar-bites arena is that there really are few guardrails on what you can put forward. Global mash-ups, whimsical, eclectic, comforting, homey, classic—all are welcome. They do need to be shareable and convivial. And today, more than ever, they need to stand out with flavor.
Commodity boards have dived into this space, armed with creativity and, as always, leveraging the latest consumer insights and flavor trends to help guide their recipe development. We asked a handful of them to share inspiring creations—the ones that both highlight their commodity in a craveable way while showcasing a trend-forward build.
What follows is a diverse array of menu-ready bar bites—all fitting beautifully into this dynamic and ever-evolving category.
Baja Beauty
This Baja Avocado Elotes & Crab Toast is a creative play on elote, Mexico's popular street treat of corn on the cob. "The addition of lump crab meat and fresh Avocados from Mexico turn this street food staple into a fresh, elevated, handheld bar bite that is perfect for sharing," says Mark Garcia, director of foodservice marketing at Avocados from Mexico. Cool, creamy avocados balance the tangy Tajin seasoning, spicy jalapeño and cilantro in the dish. The board has also created a variety of sauces and spreads that can elevate bar bites. "Avocado rémoulade and double garlic-avocado aïoli are perfect sauces for snacks like fried oysters or fried pickles, and an avocado-walnut pesto is ideal atop sliders and other mini sandwiches," adds Garcia.
Avocados From Mexico
Pear Necessity
This Pear & Chicken Bastilla with Yogurt Herb Dressing is a fresh take on the traditional Arab-Andalusian bastilla, or pastilla. Adapted for use as a bar bite, this dish highlights the small-plate exploration of new flavors, textures and global cuisines. Consulting chef Blake Swihart's recipe, developed for the Pacific Northwest Canned Pear Service, features a combination of sweet and savory through the use of canned pears and raisins with a garam masala-spiced chicken. The mixture is then baked in filo dough "purses" and served as a stunning shareable.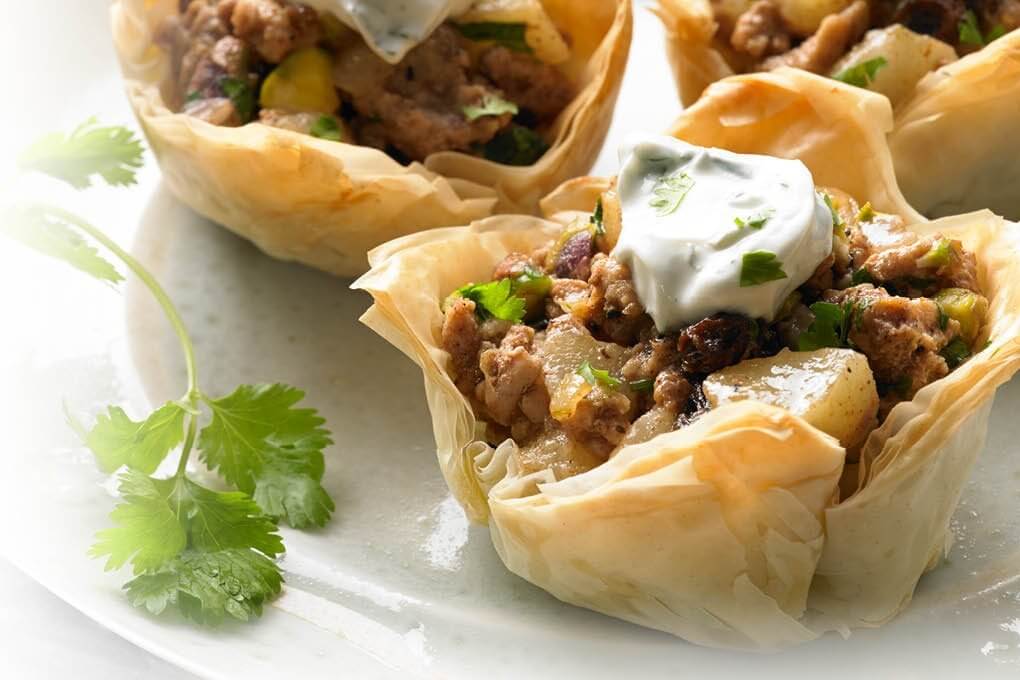 Pacific Northwest Canned Pear Service
A Savory Bite
A perfect savory complement at the bar, this crunchy baguette is topped with a blend of four sweet and nutty cheeses, salty pan-seared salami, savory black and green olives and fresh parsley. "These Salami & Italian Cheese Toasts are a perfect example of a simple concept full of complex flavors and textures," says Rachel Kerr, public relations manager at the Wisconsin Milk Marketing Board. "The combination of Wisconsin mozzarella, chosen for its excellent melting capabilities, blends perfectly with Wisconsin Romano, Asiago and Parmesan to create a flavorful base layer for the toast."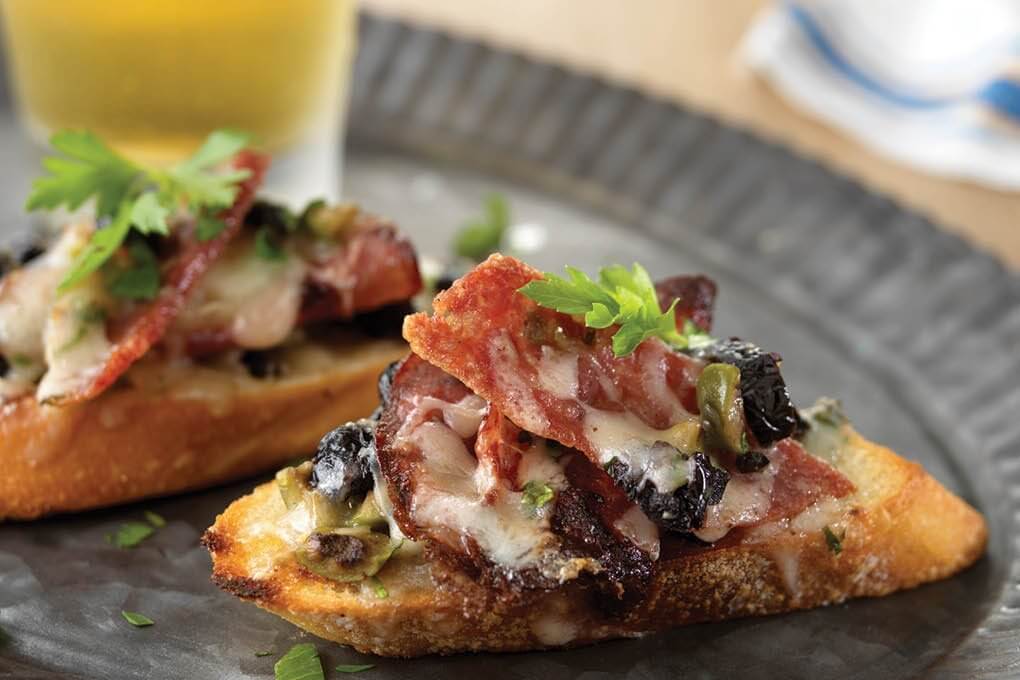 Wisconsin Milk Marketing board
A Cut Above
Providing an upscale indulgence while showcasing the versatility of beef, this Tender Trio features steak medallions atop toasted croutons finished with a flavorful trio of lobster mornay, mixed mushrooms and Rockefeller spinach. "This preparation is unique because it utilizes the beef shoulder tender, a relatively new and very tender cut of beef from the shoulder clod," says Dave Zino, executive chef for the National Cattlemen's Beef Association. He notes that with an increased beef supply and decreasing prices, operators can offer diners high-quality beef eating experiences in smaller portions.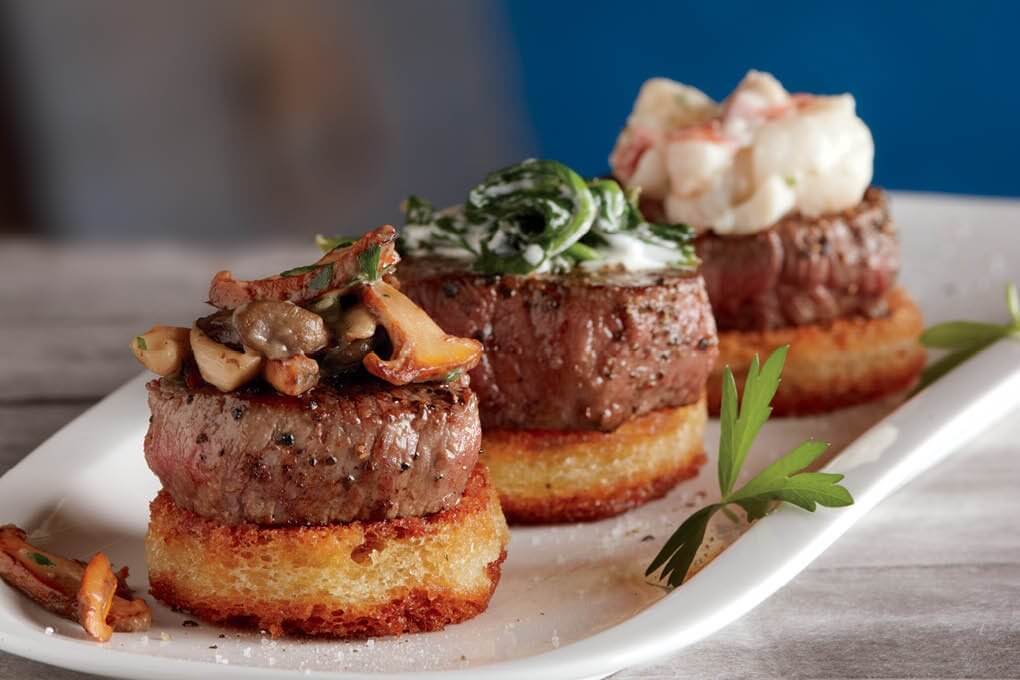 Beef Checkoff
Sweet Surprise
The firm sweetness of watermelon makes a unique base for these Watermelon Lamb Chorizo Bites, its summer sweetness contrasting the savory chorizo, Parmesan crisp and Greek yogurt with pickled watermelon rind. "This exciting bar bite using watermelon is a fun way to add color, texture and produce front and center," says Megan McKenna, director of foodservice and marketing for the National Watermelon Promotion Board.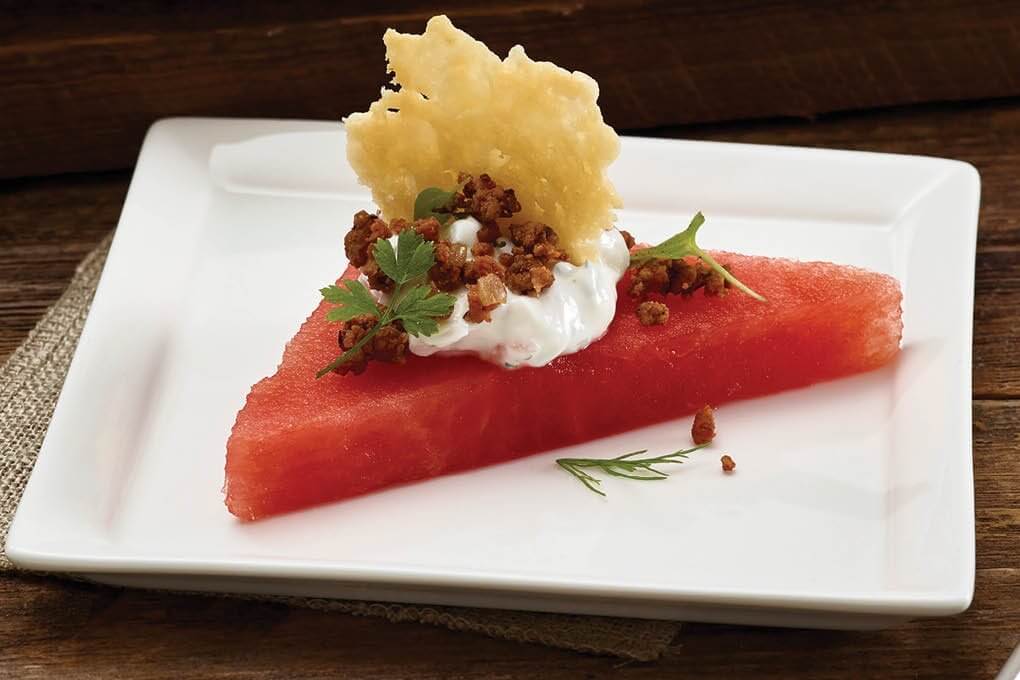 National Watermelon Promotion Board
Sprouting Up
This small plate of Roasted Brussels Sprouts with Almonds and Manchego from Plum Bar & Restaurant in Oakland, Calif., showcases contrasting flavors and textures in a unique way. "Toasting the almonds brings out their nutty flavor and also maximizes crispness in each bite," says Molly Spence, director of North America for the Almond Board of California, noting that shareable bar bites like this have strong appeal among diners today. "More and more, diners seem hesitant to commit to one starter and one entrée, when instead they can share a variety of tastes and textures that show off the kitchen's capabilities and creativity."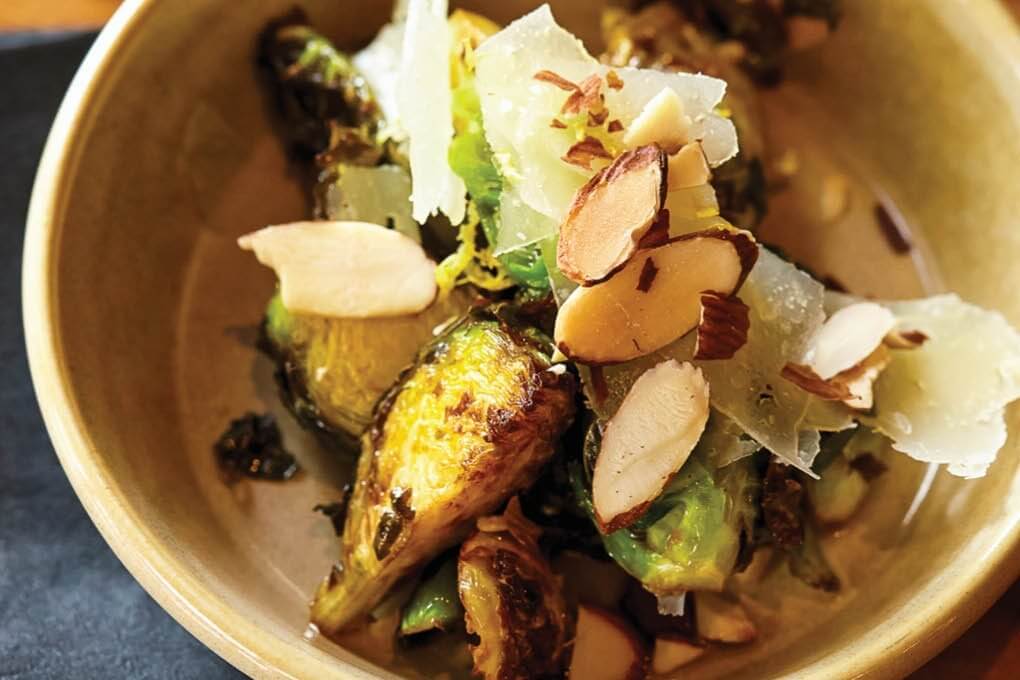 Almond Board of California
Say Queso
"People don't have to throw out their notions of nutrition just because they are at the bar," says Steve Solomon, who directs foodservice outreach for The Mushroom Council and maintains that bar bites can provide an opportunity for healthy dishes. "Mushrooms are an ideal ingredient for 'healthy-ish' bar bites," he says. This Blended Beef and Crimini Queso is a creative take on the iconic chips and queso dip. "By blending the meat with mushrooms you are dialing back the calories without sacrificing flavor—thanks to mushrooms' umami and the synergistic relationship between mushrooms and meat."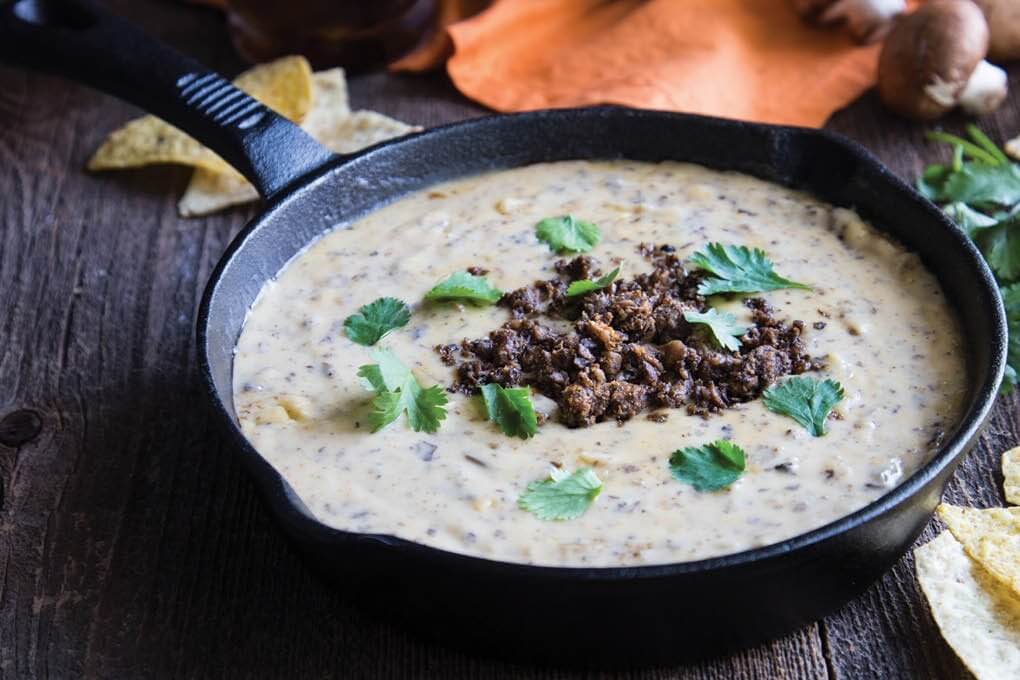 The Mushroom Council
Rib Fest
Middle Eastern-Spiced Lamb Ribs provide an elegant shareable with global flair. "While primarily linked to fine dining and entrées, lamb is moving into new areas of the menu, including innovative bar bites," says Megan Wortman, executive director of the American Lamb Board. "As a protein alternative, lamb adds a sophisticated twist to classic bar food such as sliders, tacos, nachos and ribs." These lamb ribs are rubbed with Middle Eastern spices and slow roasted, then grilled to order and served with a spicy peach-mustard dipping sauce.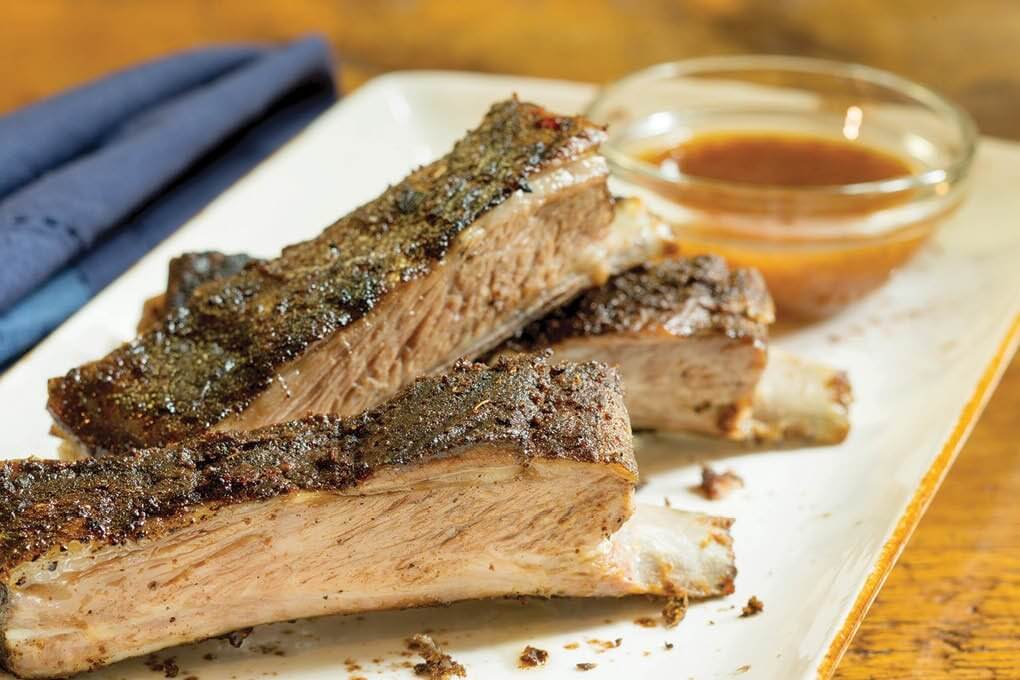 American Lamb Board
Make 'em Pop
Food on a stick brings a light-hearted, eye-appealing and intriguing approach to the bar menu. These Asian Egg Pops—tempura-coated hard-boiled eggs—are served with a tangy citrus-soy dipping sauce. "Beyond the innate fun factor, these are visually stunning and deliciously flavored," says John Howeth, senior VP of foodservice and egg product marketing for the American Egg Board. "Bar bites give diners the opportunity to sample new foods in small portions, while allowing operators the chance to show off their creativity with different flavor combinations and food items. Here, you've taken a simple everyday food and elevated it to something new."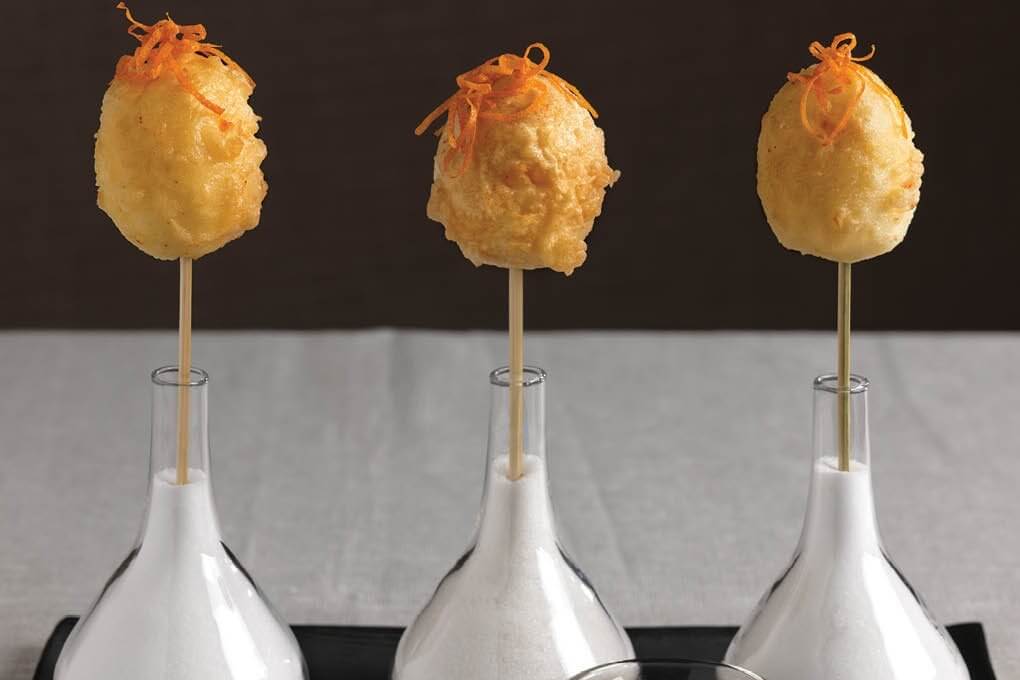 American Egg Board
A Fresh Mash-Up
These Roasted Sweet Potato Wedges with California Avocado Chimichurri were developed by chef Tara Lazar, who owns and operates four restaurants in Palm Springs, Calif., through her company F10 Creative. The craveable dish combines the zingy, fresh flavors of garlic and parsley with the creaminess of avocado. "The bright and bold flavors of the California Avocado Chimichurri complement both the color and texture of roasted sweet potatoes," notes Jan DeLyser, VP of marketing for the California Avocado Commission. "One sweet potato wedge topped with the creamy California avocado dip makes for a perfect bar bite."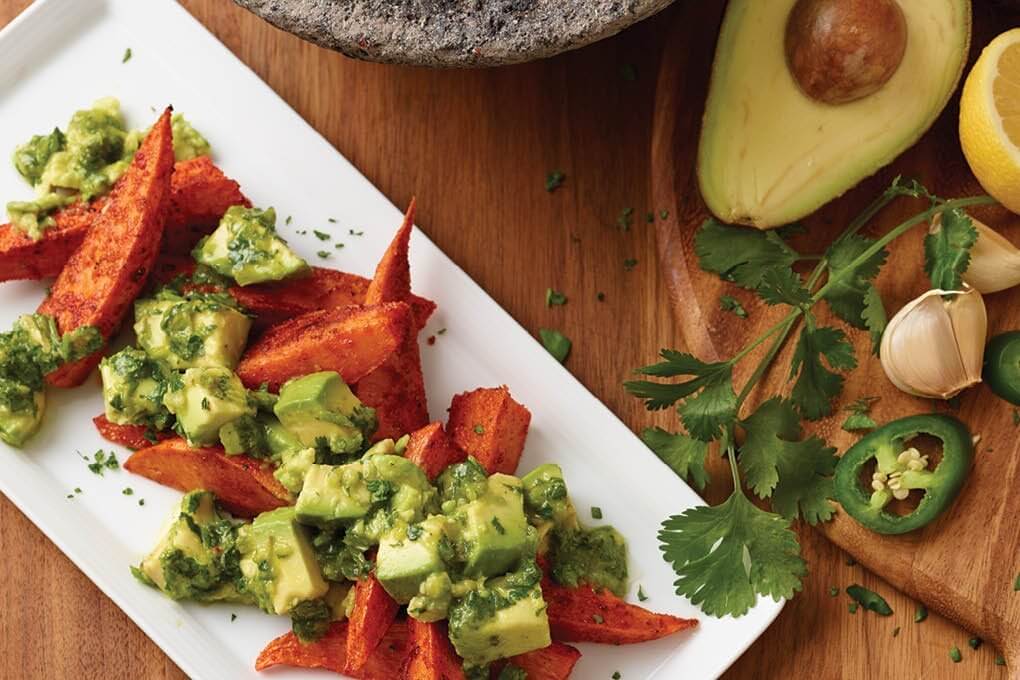 California Avocado Commission
Playful Poutine
Loaded fries offer a world of opportunity. Made from a base of sweet corn, Russet and Yukon Gold potatoes, these Cuban Fusion Croquettes offer a memorable version. "They are a Latin take on poutine with the volume turned up," says Kim Breshears, director of marketing for Potatoes USA. "Mexican-style potato and corn croquettes sit atop luscious Cuban-style braised beef, and the dish is finished with fresh avocado and lime. It's fresh yet decadent at the same time."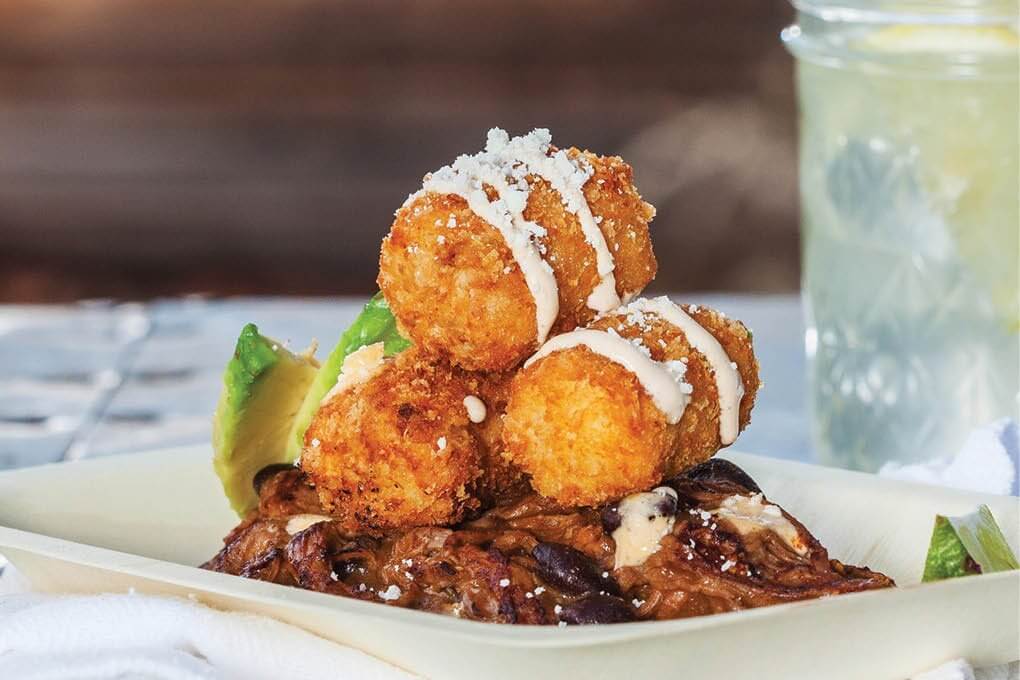 Potatoes USA
Skillet Surprise
"Bar-bite choices can range from being comfortable to ethnic or eclectic," says Don Odiorne, VP of foodservice for the Idaho Potato Commission. Brandade, he says, is probably one of the more enticing ways for a newcomer to experience their first salted cod dish. This Brandade de Morue, created by Jill Mathias, executive chef at Chez Nous in Charleston, S.C., is a luscious whipped spread of salt cod and potato. The skillet presentation helps position it as a familiar, homey offering.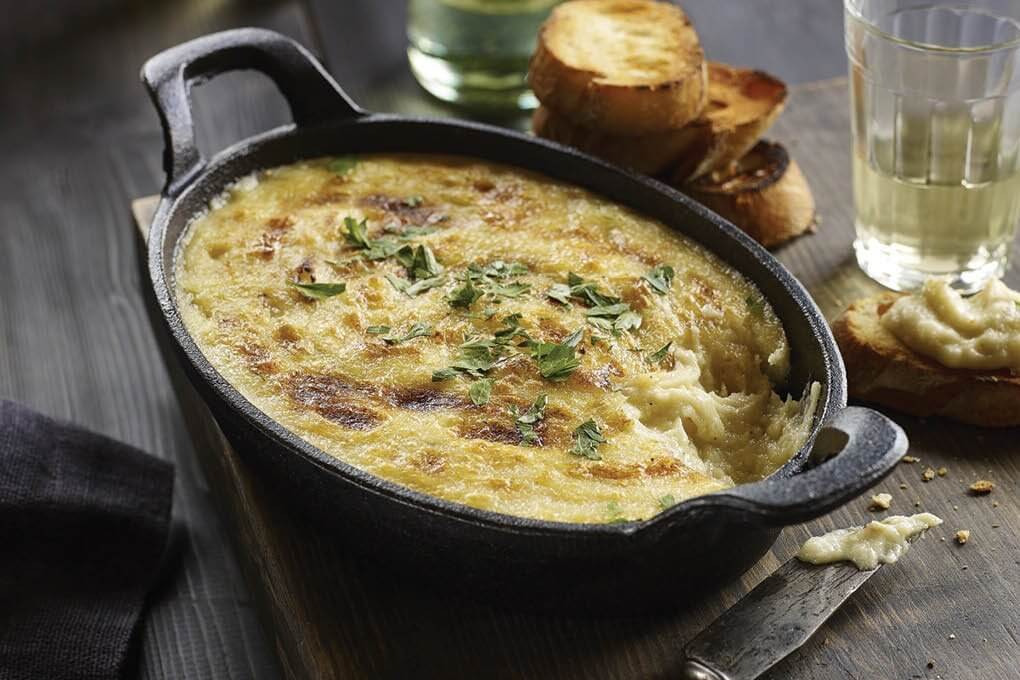 Idaho Potato Commission
Belle of the Ball
Interaction and engagement of diners through shareable dishes are a key advantage of bar bites. Honey-Spiced Chickpea "Meatballs," created by National Honey Board consulting chef John Csukor, offer up a vegetarian take on a perennial favorite. Catherine Barry, marketing director for the National Honey Board, notes how this particular bar bite delivers on a number of trends: "It offers a unique twist on a classic favorite; combines trending all-natural ingredients like honey, chickpeas and spices to create great layers of flavor; is served as a skillet for added presentation effect; and is likely to appeal to vegetarians and non-vegetarians alike."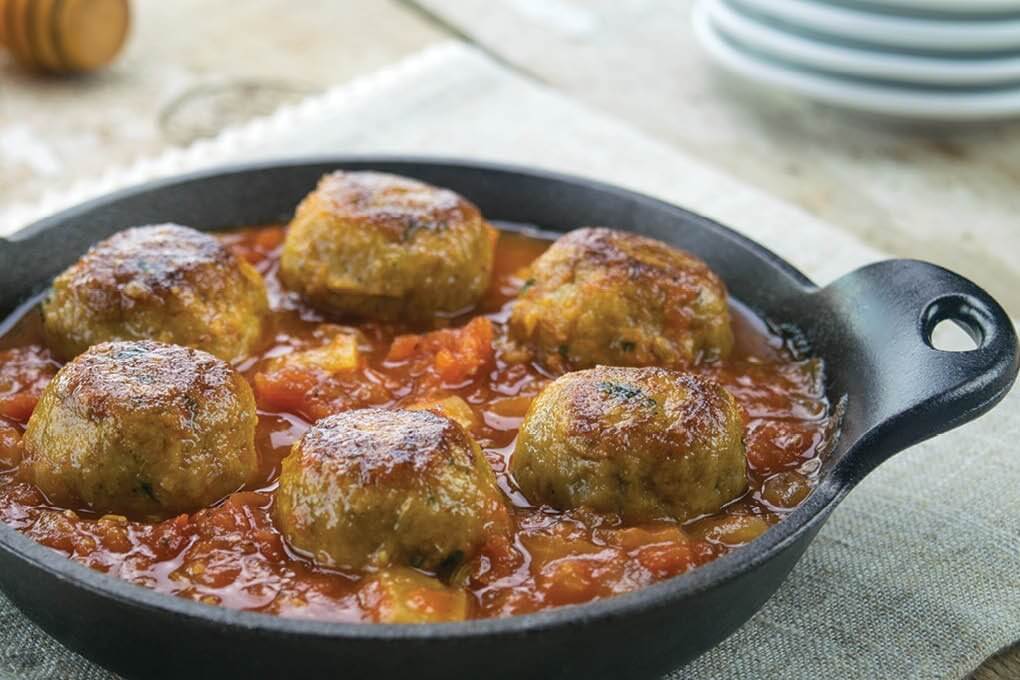 National Honey Board
Hummus 2.0
Among the opportunities that bar bites provide for foodservice operators is the possibility to upsell creative small plates while capitalizing on the versatility of a product. This Pistachio Hummus & Country Ham, created by chef Sean Brock of Husk restaurant in Charleston, S.C., is a Southern-inspired shareable that highlights a new use of the pistachio. The nut forms the base of the spread, which is made with tahini, lemon juice, cumin, Espelette pepper and garlic, topped with smoked paprika and chiffonade parsley. Gerald Hirigoyen, chef/owner of Piperade and Bocadillos in San Francisco and chef-ambassador for American Pistachio Growers, says this dish is unique because it provides a "familiar and contemporary concept with a different flavor twist. Hummus is a versatile and healthy product," he says, "and this application has an upscale flair."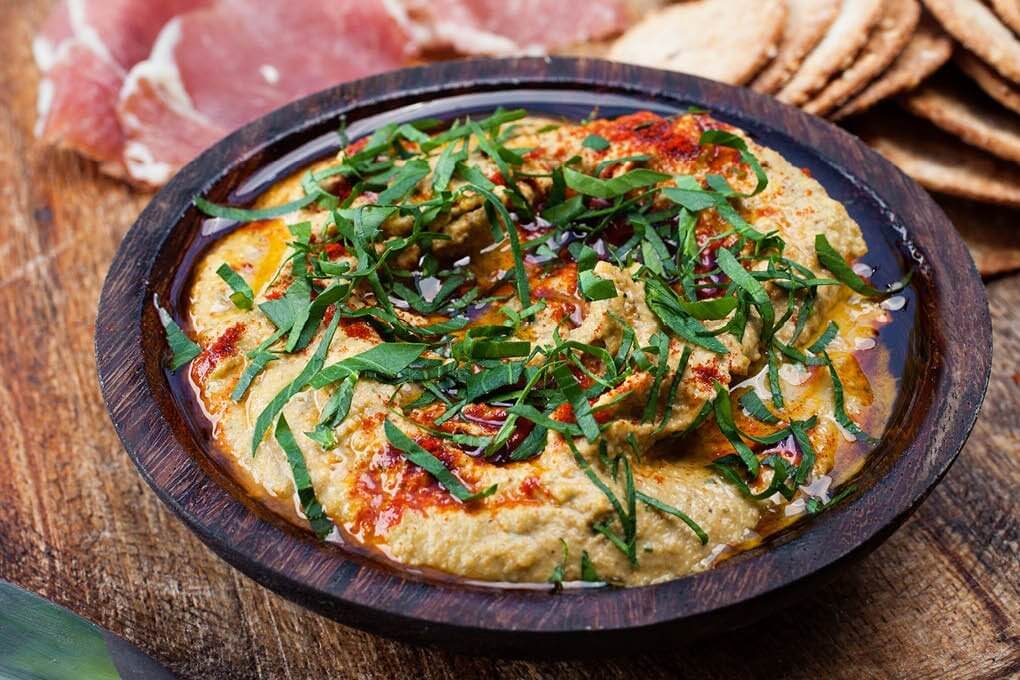 American Pistachio Growers
The Devil's on a Roll
Creating bar bites with cocktails in mind is a smart strategy, as the two go hand in hand. Seattle-based chef and mixologist Kathy Casey took just this approach in her development of Wild Alaska Seafood & Cocktail Pairings, a series of recipes created in partnership with Alaska Seafood Marketing Institute to showcase the beverage-friendly nature of seafood bar bites. These Alaska "California Roll" Deviled Eggs, based on an adaptation from Casey's book D'Lish Deviled Eggs (Andrews McMeel Publishing, 2013), beautifully showcase a modern mash-up. A blend of avocado, mayonnaise and wasabi replace the traditional egg mixture. Alaskan king crab, cucumber and furikake top the egg. "It's a mash-up of retro and modern, as well as a beloved appetizer and modern-day sushi favorite blended into a great item for today's guest, " she says.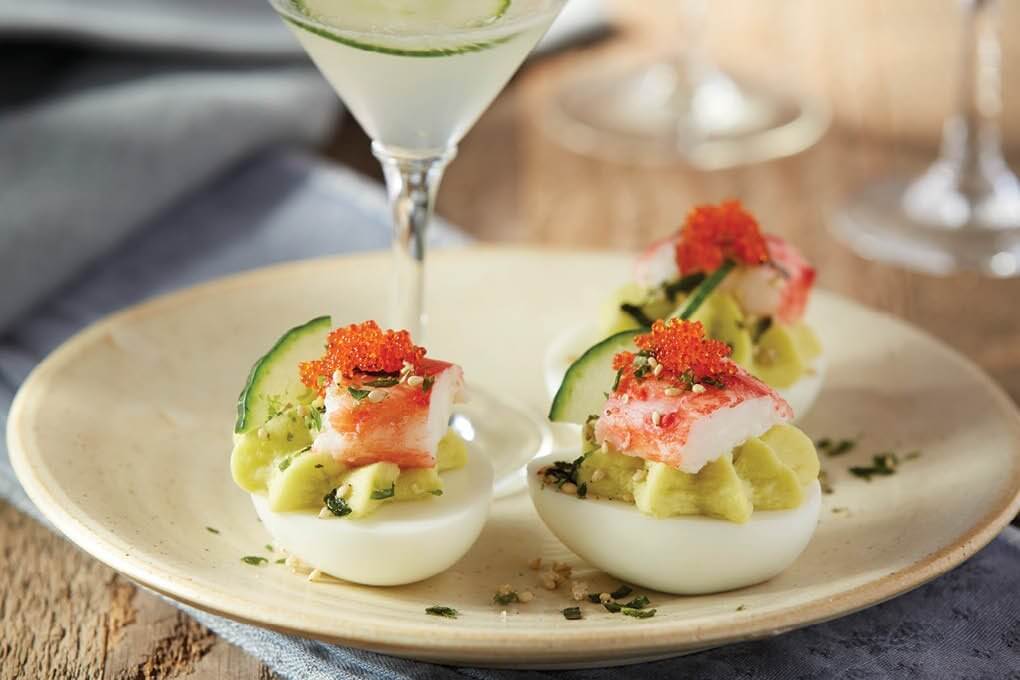 ALASKA SEAFOOD MARKETING INSTITUTE
Thai it up
Putting a global spin on a well-known bar bite—flatbread—this Grilled Thai Turkey Pizza showcases modern flavor combinations. "The versatility of shredded turkey breast enables it to act as a blank canvas for absorbing these traditional, bold Thai ingredients in the recipe," says Debbie Freeman, National Turkey Federation advisory board member. By presenting traditional Thai ingredients in a unique manner, she says, the dish is a great way to introduce customers to a burgeoning global flavor trend.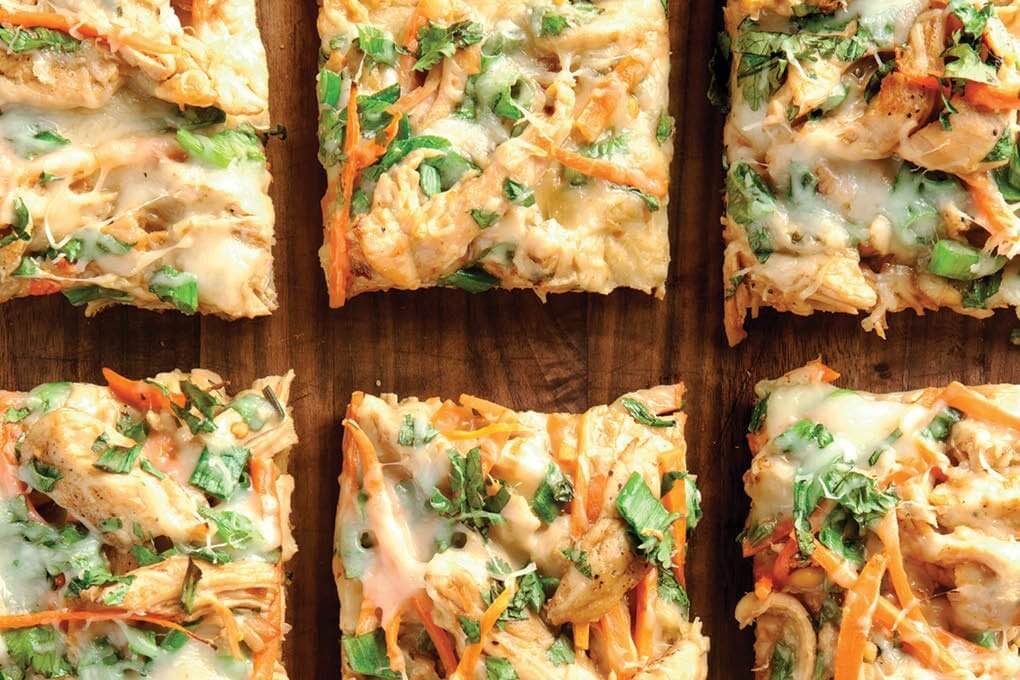 National Turkey Federation
Sliding into Home
"Research shows that seafood and meatless meals are becoming increasingly popular on restaurant menus," says Egil Ove Sundheim, director, USA, for the Norwegian Seafood Council. "With an increasing shift toward alternative proteins, Norwegian ocean-farmed salmon offers a flavorful, heart-healthy alternative to traditional beef burgers." These Norwegian Salmon Sliders are on-trend to satisfy consumers looking for healthier menu options—even at the bar. "We've noticed the Salmon Sliders are particularly popular on happy-hour menus," he adds.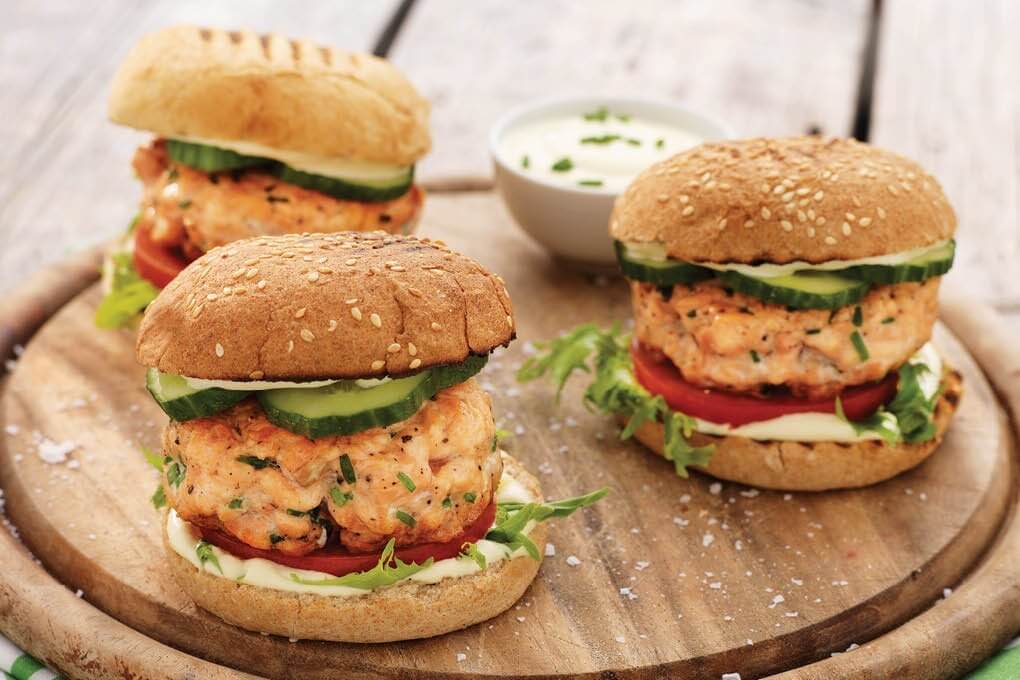 Norwegian Seafood Council