Home
[flavor_2018_post_by_category category="2018 January-February Top Ten Trends+Main" tag="Fun Cocktails" count="1" offset="0"]
[flavor_2018_post_by_category page="Home Page" category="2018 January-February Top Ten Trends" tag="Fun Cocktails" count="1" offset="1"]
[flavor_2018_post_by_category page="Home Page" category="2018 January-February Top Ten Trends" tag="Fun Cocktails" count="1" offset="3"]
[flavor_2018_post_by_category page="Home Page" category="2018 January-February Top Ten Trends" tag="Fun Cocktails" count="1" offset="1"]
[flavor_2018_post_by_category page="Home Page" category="2018 January-February Top Ten Trends" tag="Fun Cocktails" count="1" offset="1"]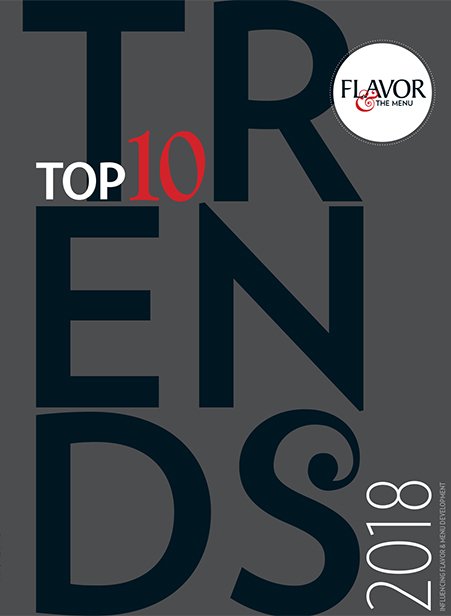 January-February 2018 Issue
This issue is special. It's our annual Top 10 Trends edition, and the culmination of many months of research, collaboration, curation and plain hard work. But what makes it exceptional are the unique insights and modern inspirations that it provides for foodservice operators.
It is a veritable encryption code that deciphers 10 major menu-building opportunities, and the drivers fueling trend momentum. All packaged into a beautiful, high-quality print magazine and digital format that our team is proud to share with you.
We're passionate about the meaningful work that goes into tracking menu-ready trends and sharing the strategies that will help you translate them for your operation—all in an engaging format. This is what drives us, and has for nearly 20 years. We invite you to enjoy the read.
[flavor_2018_post_by_category page="Home Page" category="Recent" count="1" offset="1"]
[flavor_2018_post_by_category page="Home Page" category="Recent" count="1" offset="2"]
Ingredients
[flavor_2018_post_by_category page="Home Page" category="Ingredients" count="2" offset="1"]
Desserts
[flavor_2018_post_by_category page="Home Page" category="Dessert" count="2" offset="1"]
Beverages
[flavor_2018_post_by_category page="Home Page" category="Beverage" count="2" offset="1"]
Strategy
[flavor_2018_post_by_category page="Home Page" category="Strategy" count="2" offset="1"]
[flavor_2018_post_by_category page="Home Page" category="Recipe" count="1" offset="1"]
[flavor_2018_post_by_category page="Home Page" category="Recipe" count="1" offset="2"]
[flavor_2018_post_by_category page="Home Page" category="Recipe" count="1" offset="3"]