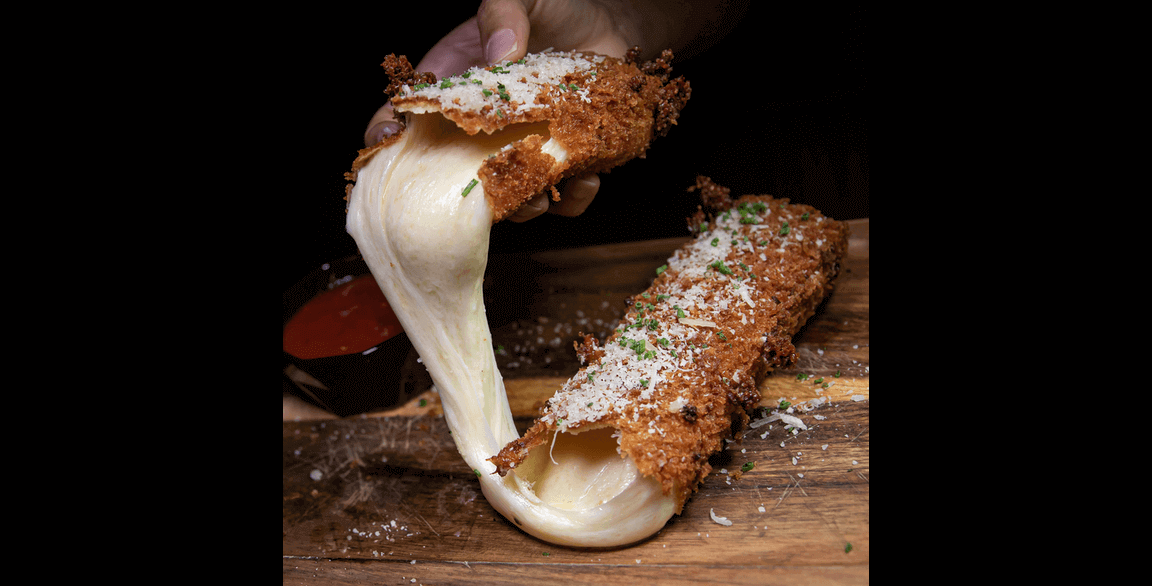 By Mike Kostyo
April 1, 2022
Are mozzarella sticks the ultimate craveable appetizer? Yes, and market research firm Datassential has the numbers to back such a bold assertion. According to the company's menu-testing database, these crispy-on-the-outside, gooey-on-the-inside menu favorites trounce every other option, earning sky-high "purchase intent" scores on appetizer menus. In fact, apps that feature mozzarella sticks score a staggering 13 points higher than the average appetizer benchmark.
Their crave factor is why Jonathan Kavourakis, chef/owner of The Brookdale in Bloomfield, N.J., went a little crazy with his mozzarella stick app, giving his customer base lotsa mozza—a whole pound of cheese in a single stick, to be exact. "It's not typically something we would put on our menu, but I said 'Screw it,'" he says of his creation, aptly named The Big Cheese. Kavourakis settled on a low-moisture whole-milk mozzarella for the super-sized stick-turned-brick, which achieves that all-important cheese pull without making the breading soggy, even if it's held for a while.
Kavourakis is in good company when it comes to creating new, high-impact takes on melty and fried favorites that give customers comforting-yet-creative cheese-centric dishes that drive new visits and repeat orders. In fact, back-of-house creativity with ingredients already on hand could lead to an operator's next top seller.
CRISPY DOES IT
Melted and fried foods are a staple at street food stalls and food trucks around the world. Melty, indulgent cheeses entice customers to stop, and a single fryer can turn out an impressive array of dishes in record time.
The melty, fried flavors found on the streets of Tijuana, Mexico, inspired a recent creation at Socalo in Santa Monica, Calif. Susan Feniger and Mary Sue Milliken are the co-owners/chefs of this beachy canteen serving conscientiously sourced, seasonal SoCal-Mexican fare.
"We've always eaten at street stands all over Mexico because this is the food that excites us the most," says Feniger, recounting one memorable trip. "We were surprised by the shrimp tacos we tasted and how they were cooking them 'vampiro-style,' toasting the cheese on the comal until it was golden." Tacos vampiro are cooked until the edges of the tortilla fold up, making the tacos resemble bat wings. Upon the duo's return home, they started testing their own versions. They landed on a trio of cheeses: panela for milky richness, Mexican-style manchego for gooey meltability and Cotija for a touch of salt.
"As the cheeses melt and cook, they fuse onto the tortilla and become crisp and richly caramelized," Milliken says. The tacos are topped with grilled steak and shrimp, plus the pair's signature nutty and spicy salsa macha, a menu feature that is trending in its own right.
Frico, that lacy fried cheese crisp, is having a moment, finding the spotlight thanks to its crispy, savory profile.
At the 2021 CADairy2Go Competition, held at The Culinary Institute of America in Napa, Calif., Brian Mullins, chef of Miami's Ms. Cheezious food truck, took first place in the "Innovative To Go" category with his crispy, melty Frico Pesto Melt. Mullins sandwiches walnut and Jack cheese pesto, tomato and fresh mozzarella between two slices of sourdough. More dry Jack cheese is pan-fried on the outside of the bread, creating a crunchy frico layer on the exterior and a melted mozzarella layer on the inside.