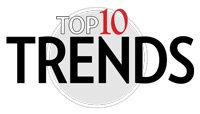 By Rob Corliss
Textural contrast needs to soar to new heights, surprising and delighting consumers with unexpected, memorable, flavor-enhancing experiences.
Consider these ways to amplify texture:
Diversify the form: Use a soft outer coating to hide a surprise inner crunchy form.
Cue taste buds for flavor via both external and internal aspects of crunch in your menu development.
Chewy liquid love: Bloomed chia seeds, pomegranate seeds, torn pieces of edible flowers, natural "sediment" from flavorings and more—all can be added to beverages, providing visually appealing texture. Savory, tart and floral are a future direction for beverages.
Uneven forms and amplified textures create pockets of flavor explosion.
Double down on mouthfeel: Multiple textures within one menu item create the appeal of the unexpected.
New executions of "thin" have more impact than thicker applications to execute modern crunch:
A thin, super-crunchy coating—whether applied or achieved from searing—on a protein can create that memorable first bite.
Thin shards of brittle sprinkled over a salad or savory yogurt add intrigue.
Chopped nuts or seeds or thick-chopped herbs add to a crispy tempura batter (use sparkling water for further batter crunch).
Adding irregular-textured shapes to salads and sandwiches creates unusual texture plays.
Thin and crispy fried haystacks of leeks or spiralized vegetables or sweet potatoes accentuate everything from bowls to steak or chicken filets to omelettes and loaded baked potatoes. Thinly sliced crispy shallots or onions accentuate cubes of sauced ahi tuna poke.