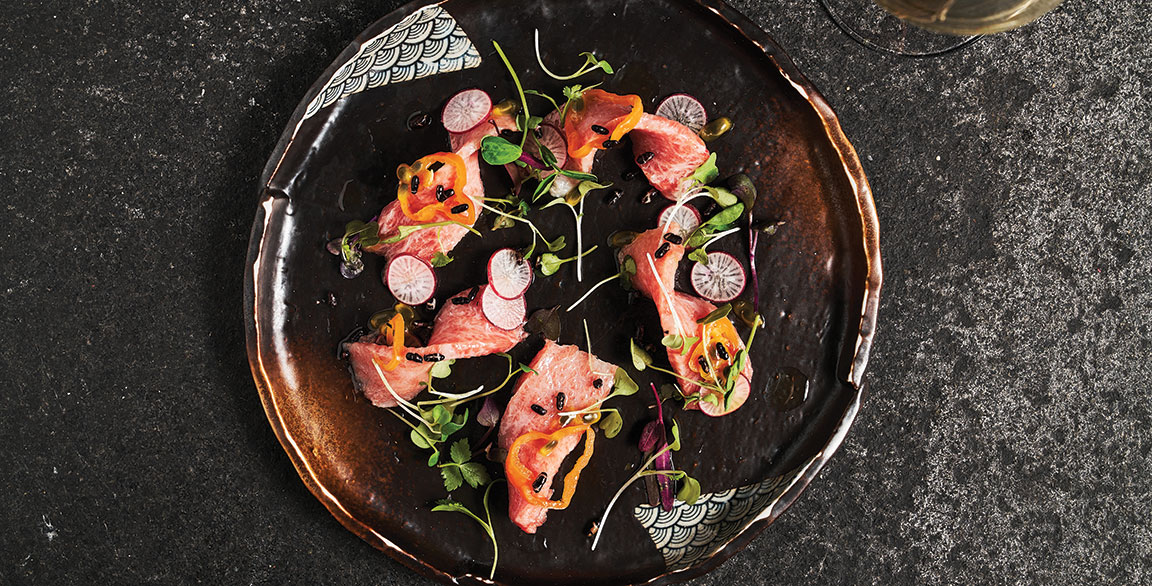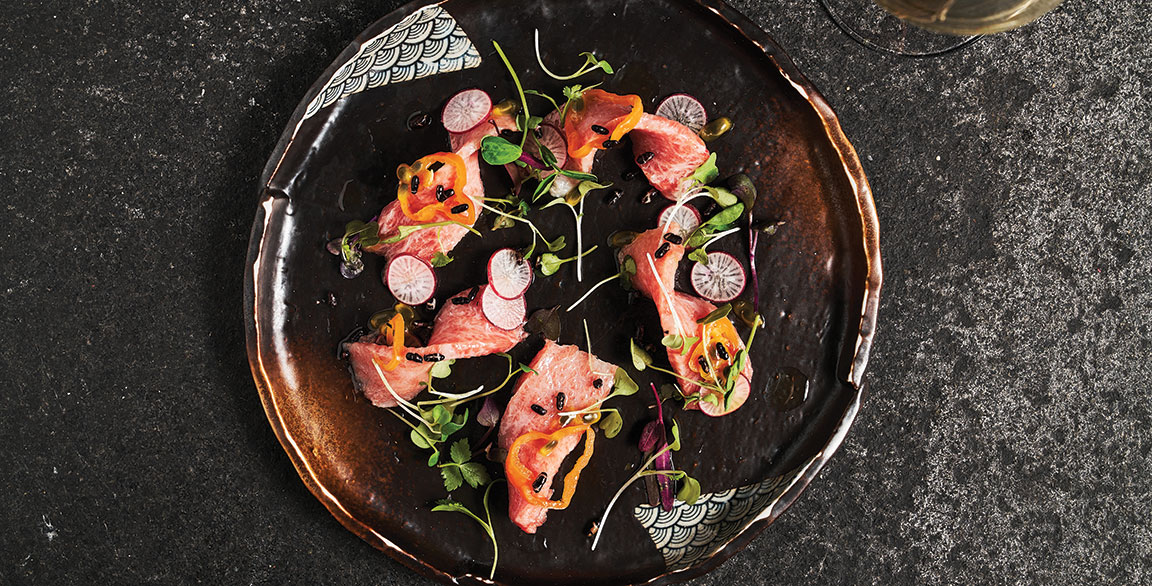 Global ingredients that are starting to get a bit of traction on leading-edge menus, moving into the early stages of the trend cycle, carry significant importance to menu developers. It might be years before they become mainstream, and some might not ever reach that level of ubiquity. But chefs can leverage them now to bring unique complexity as background elements in new recipe builds or to add intrigue as high-impact flavor touches on familiar recipe builds.
There's also value in tracking the proliferation of these global ingredients on menus because they can indicate a growing familiarity among consumers with a particular world cuisine or regional dish.
Key global regions of discovery include South America, West Africa, Eastern Mediterranean and Southeast Asia. When incorporating emerging ingredients from these hotspots, it's important to overlay macro trends, like veg-centricity, functional wellness and global comfort.
We've profiled 10 emerging global flavors, offering ideas on how to leverage them now in ways that excite and engage consumers.
1

Habanada Pepper

These aromatic, fruity beauties boast the color, crispness and flavor of an habanero pepper but without the heat. That's where the name comes from—"nada" or "nothing" in Spanish. This heatless habanero offers versatility, working across the menu as a fresh-sliced pepper, roasted, seared, braised or pickled.

Habanada Cornbread Poppers
Cornbread-stuffed habanadas + white cheese queso dip

Habanada Snackers
Whole blistered habanadas + salted pepitas + queso fresco crumbles
2

Wild Maqui Berry

If you are searching for the next açai berry to cue wellness on your menu, then look to this Chilean antioxidant-rich powerhouse berry. (The powder form is typical.) Chefs can leverage both its deep-purple color and flavor in much the same way as sweet/tart blackberries.

Maqui Yogurt Bowl
Wild maqui berry/Greek yogurt + fresh berries + sliced Cotton Candy grapes + chopped pistachios

Chilled Maqui Blueberry Soup
Wild maqui powder + fresh blueberries + coconut milk + seeded granola topper
3

Hojicha

Guests seeking an alternative to coffee and/or a new low-caffeine tea experience will appreciate this Japanese roasted green tea. The stems/twigs/leaves are roasted after steaming, removing the bitterness and producing its unique earthy aroma, reddish-brown color and smoky taste.

Cold Brew Yuzu Hōjicha
Hōjicha (loose leaf) + filtered water + yuzu

Hōjicha Iced Latte
Hōjicha (powder) + filtered water + oat milk + maple syrup + bullet ice
4

Fonio

Grains have garnered increased attention with the rise of plant-based options, like bowls and savory porridges. This gluten-free, nutrient-rich West African small grain with a nutty taste and texture can liven up bowl, burger, and salad offerings.

Fonio Bowl
Fonio + grilled squash medley + raw corn kernels + organic mixed greens + charred tomato oil

Fonio Veggie Burger
Fonio + mashed black beans + chopped sautéed portobello + grated beets + breadcrumbs/egg + steak seasoning
5

Sweet Lime

Citrus is always on trend, however, consumers still look for new news and value nuanced experiences. The sweetness in this yellow-green juicy lime delivers the unexpected with its aromatic, low-acid, sweet and mild flavors.

Summer Salmon
Sweet lime segments + shaved raw fennel/rainbow carrot/radicchio salad + grilled salmon fillet

Sweet Citrus Spiced Vinaigrette
Sweet lime juice + olive oil + minced shallot + fresh herbs + cracked grains of paradise
6

Black Cocoa Powder

Cocoa powder itself is nothing new, but this strikingly dark cocoa offers inherent umami and is finding favor as a result. Chefs will appreciate working with its slightly bitter, savory, smoky flavor, and guests will love the exciting contrast to sweetness when it's featured in desserts and baked goods.

Midnight Cookies
Black cocoa powder + cookie dough + dark chocolate chips

Black & White Doughnuts
Half black cocoa powder/half vanilla doughnut + icing glaze
7

Sazón

Spices continue to dominate trend applications and serve as a launching point for global cuisine introductions. This Latin American/Caribbean blend of achiote, cumin, oregano, garlic, coriander, salt and pepper adds charismatic flavor and reddish-orange hues to an array of menu items.

Sazón Shrimp Taco
Sazón shrimp + white corn tortillas + pickled jicama + guasacaca (avocado salsa)

Fried Breakfast Rice
Sazón rice + chorizo + scrambled eggs + bell peppers
8

Yumberry

The Chinese yangmei, or yumberry, is a nutrient-rich dynamo. Its ruby color, tart flavor and pomegranate-like fragrance makes it appealing to the palate, as well as visually stunning and just plain fun. Look for powdered and juice formats, as fresh fruit harvesting is limited and its shelf life is short.

Yumberry Pancakes
Yumberry (powder) ricotta pancakes + fresh raspberry topping + whipped cream

Yumberry Mousse
Yumberry (powder) ruby chocolate mousse + chocolate cookie crumbles
9

Amba

This Middle Eastern sweet, spicy, tangy, pickled condiment stars green mango, functioning on its own or as a flavoring agent in a recipe. Sparked by a growing interest among chefs in menu applications for unripe produce, amba is poised to make deeper inroads on menus today.

Grilled Amba Ham & Cheese
Amba mayonnaise + ham + Havarti cheese + sourdough bread

Tempura Vegetables with Amba
Amba + tempura vegetables + sweet potato crisps
10

Sea Buckthorn Berry

Adaptogens like turmeric and ashwagandha have paved the way for the next round of newcomers. Boasting gorgeous bright color, high levels of vitamin C and a sour-tropical citrus flavor, this North Eurasian berry is poised to make a memorable menu impact.

Sea Buckthorn Curry
Sea buckthorn juice + red curry chicken + coconut shavings + fresh cilantro sprigs

Sea Buckthorn Marmalade
Frozen sea buckthorn berries + shredded carrots + honey + fresh ginger + golden raisins + red chile
EMERGING UMAMI BOOSTERS
Varying sources of umami are continually being explored by chefs. Reaching for elements that serve as staples in other food cultures or leveraging niche ingredients in new ways opens up exciting pathways to different flavor nuances within the umami universe.
Koji
This edible mold is created via "funkless" fermentation that imparts both umami and sweetness. It is used to ferment soy sauce, miso and sake. Koji has gained new cred for its ability to rapidly age, marinate and transform meat, while acting as a flavoring agent in sauces, bean dishes and more.
Grill at Home Albacore Collars: Two big local shio koji-marinated albacore collars (grilled or baked in the oven for 15 minutes at home)
—Kamonegi, Seattle
Grilled Shishitos: Chickpea miso, guanciale, shoyu-koji
—Oko Kitchen, Rye, N.Y., and Westport, Conn.
Risotto Koji with cultured butter and fancy Parmesan
—Brassica Kitchen, Boston
Huitlacoche
A fungus that naturally grows on the ears of corn, huitlacoche, or Mexican corn truffle, transforms the color of kernels into soft explosions of blue-gray-black and boasts an earthy flavor. It can be applied wherever chefs would use the flavor of a mushroom, pairing it, for example, with meats, potatoes, egg dishes, soups and cheesy quesadillas.
Calamares con Huitlacoche: Calamari stuffed with corn truffle, topped with mole almendra
—La Diosa de los Moles, Paramount, Calf.
Veggie Tacos: Adobo cauliflower, Texas mushrooms and huitlacoche on heirloom corn tortillas with sides of salsas verde and roja
—Comedor, Austin, Texas
Sea Moss
This versatile red algae, also called Irish moss, is loaded with nutrition and carries the added benefit of serving as a vegan thickening agent. It has emerged in part due to the increased accessibility of sea vegetables in foodservice, along with recent wellness trends. Try it in smoothies, salad dressings, slaws and sauces.